Facebook has debuted Oculus Go, its standalone $199 VR headset that the company hopes will launch more widespread engagement with virtual reality. Unlike the Oculus Rift, Oculus Go does not require a high-end smartphone or computer, has no wires or cables, and is ready to use out of the box. Early reviews give the VR headset a thumbs-up for its simplicity and convenience, and such features as speakers built into the strap. Also at its F8 developer conference, Facebook debuted a new version of Oculus Rooms.
Recode reports that Facebook vice president of VR Hugo Barra notes that the "biggest stigma" of VR is "this sort of isolationist argument that people make, that you get into VR to disconnect yourself from the world and other people." The new Oculus Rooms are intended to counter that, creating spaces where "people can spend time together in the virtual world, either playing cards, watching a movie or just chatting."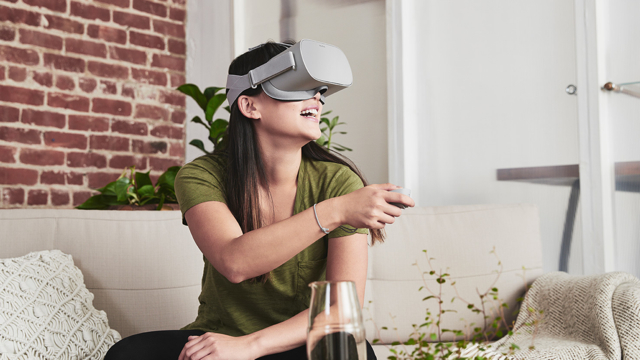 In May, Facebook plans to launch Oculus TV with Netflix, Hulu and Showtime to enable TV viewing in VR. "The goal is to get immersive live content that you can kind of build a virtual crowd of people who share interests and go and watch," said Oculus product manager Madhu Muthukumar.
"We're investing a lot in this because frankly, we haven't to-date been a hardware company, but we're an operating system company," said Facebook chief executive Mark Zuckerberg. "And we think that we need to build up a lot of different muscles in order to be competitive and be able to succeed in that space and to be able to shape that space."
Facebook also paid $3+ billion for Oculus and "has no doubt invested hundreds of millions more." That, says Recode, is "a real financial incentive to get virtual reality right."
Engadget also reviewed Oculus Go, dubbing it "the most convenient and comfortable VR headset ever made." "The Oculus Go is the virtual reality headset we've been waiting for," it added. "Not because it's incredibly powerful, but because it's inexpensive and easy to use" — and lightweight, at just over a pound.
"Under the hood, it has the same hardware you'd expect from a mid-range smartphone, including a two-year-old Snapdragon 821 processor and either 32GB or 64GB of storage," and "also features a 2,560-by-1,440 fast-switching LCD screen, instead of an OLED panel." Similar to the Gear VR, "the Go supports three degrees of freedom, meaning it can track your head movements" but "can't monitor your position in space, like higher-end VR offerings."
Oculus Santa Cruz will offer six degrees of freedom "in a wireless and self-contained headset," but the company hasn't set a delivery date for that device.
Wearing the Oculus Go, the reviewer watched an hour of Netflix TV and played games, finding it "a fun way to stay connected." Playing games, he was surprised "that it recognized fine movements for different types of swings," calling the experience "a solid example of what's possible with the Go, even if it's limited to mobile hardware." According to Oculus, the battery will get 2.5 hours of life while watching video and a bit over two hours while playing games.
Related:
New Bigscreen Update Streams Your Desktop to the Oculus Go, TechCrunch, 5/1/18
Oculus TV Launches This Month With a Ton of Streaming Partners, Engadget, 5/1/18
New Oculus Venues App Organizes Live VR Events Under One Roof, TechCrunch, 5/1/18
Facebook Teases Major VR Display Upgrades With Oculus 'Half Dome' Prototype, TechCrunch, 5/2/18
Facebook Animates Photo-Realistic Avatars to Mimic VR Users' Faces, TechCrunch, 5/2/18
Topics:
3DOF
,
6DOF
,
Battery Life
,
F8
,
Facebook
,
Gear VR
,
Hugo Barra
,
Hulu
,
LCD
,
Live TV
,
Madhu Muthukumar
,
Mark Zuckerberg
,
Netflix
,
Oculus Go
,
Oculus Rift
,
Oculus Rooms
,
Oculus Santa Cruz
,
Oculus TV
,
OLED
,
Showtime
,
Smartphone
,
Snapdragon 821
,
Social Media
,
Television
,
TV Show
,
Video
,
Video Game
,
Virtual Reality
,
VR Headset
,
Wireless