Microsoft announced last week that it has sold 100 million licenses for Windows 8 since the software's release six months ago, approximately the same number it sold for Windows 7 in the same time range at its release. The company made bold changes to its software, which included replacing the traditional interface with a screen of tiles. However, there has a been a negative reaction from some customers and the company admits the moves may have been too aggressive. A soon-to-come update may help those who are disappointed.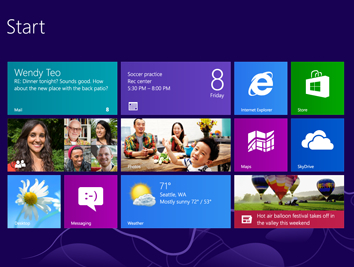 "Tami Reller, chief marketing officer and chief financial officer of Microsoft's Windows division, said an update to the software, code-named Windows Blue, was coming later this year," reports The New York Times. "It will include modifications that make the software easier to figure out, especially on computers without touch screens."
"The learning curve is real and needs to be addressed," she said.
Another problem involves the tile interface, which was designed for touch screen devices. While companies such as Acer produce Windows tablets, Microsoft sold only 900,000 Surface tablets during the first quarter, or 1.8 percent of the market (comparatively, Apple sold 19.5 million iPads).
"Much to the disappointment of PC makers like Dell and Hewlett-Packard, Windows 8 has not helped fend off competition from devices like the iPad," notes the article. "Global shipments of PCs fell 13.9 percent to 76.3 million units during the first quarter of the year when compared with the same period a year ago — the worst showing in two decades, according to IDC. Tablet shipments grew 142.4 percent to 49.2 million units in that same period, IDC estimates."
"Windows 8 was supposed to bridge tablets and traditional personal computers with software made for touch screens that had the option to switch to the desktop interface whenever someone wanted to create a PowerPoint slide or work on an Excel spreadsheet using a keyboard and mouse."
Microsoft had hoped to see a wide array of new Windows 8 touch screen devices, but that has yet to happen.
"If you're not going to provide the proper environment for people to understand how to use the system, you risk losing a lot of people who used the system for a decade," said IDC analyst David Daoud.
Specifics about changes to Windows 8 are expected in the coming weeks.