With an app from startup Watchup, Apple TV users can now receive free customized newscasts from 160 news partners, including CNN, Fox News Channel, CBS News and Tribune Media, as well as local news covering 80 percent of U.S. markets. Users can select topics of interest and then further refine resulting newscasts by "liking" or "disliking" specific reports. The app supports fourth-generation Apple TV, launched last fall, as well as apps for iOS and Android, Amazon Fire TV, Microsoft Xbox 360 and Nintendo Wii U.
Variety reports that the Menlo Park-based Watchup, founded in 2012, is also developing support for Google's Chromecast and is considering the Roku platform. Additional content partners include Bloomberg, PBS, CBS Interactive, Financial Times, Fusion, Sky News, The Wall Street Journal and The Washington Post.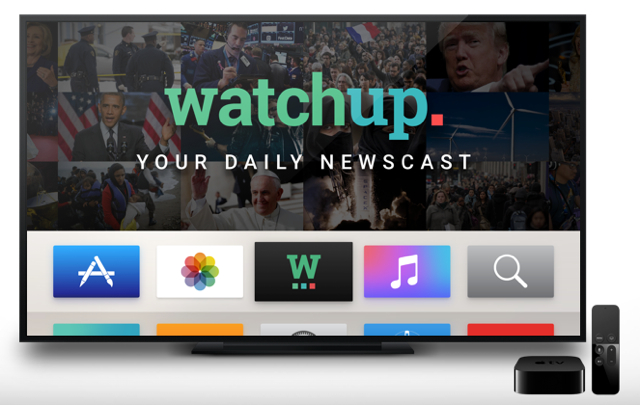 Additional content comes from TV station groups Meredith, E.W. Scripps, Cox Media Group, Hearst Television, McClatchy, Bonten Media Group, Schurz Communications, Hubbard Broadcasting, Lilly Broadcasting and Calkins Media, representing 100 local stations. Investors are Tribune Media, Microsoft, Knight Foundation and Turner Broadcasting.
"Personalization is the future of TV news," said Watchup founder/chief executive Adriano Farano, who notes that Watchup is currently delivering between 2,000 and 3,000 video clips a day. In addition to sourcing traditional news outlets, Watchup also distributes video from millennial favorites The Verge, Vox, CNET and GameSpot. Users can stream news continuously or set up a newscast at a time they designate.
Connected TV devices are crucial to Watchup's growth, because its average user session on TV apps (28 minutes) is significantly longer than the 5 to 10 minutes on mobile apps. Adding connected TV devices has also quickly paid off; at the start of 2015, 15 percent of Watchup's viewing was on connected-TV devices, a number that climbed to 55 percent by the end of the year.
"Watching the news is mainly a living-room experience," said Farano, who describes Watchup's viewers as "hundreds of thousands" but won't be more specific.
Advertising is currently pre-roll spots, with Watchup receiving a cut of sales. Farano says that, although Watchup is currently only available in the U.S., he hopes to expand internationally.
Topics:
Adriano Farano
,
Amazon Fire TV
,
Android
,
Apple TV
,
Bloomberg
,
CBS Interactive
,
CBS News
,
CNET
,
CNN
,
Connected TV
,
Cox Media Group
,
E.W. Scripps
,
Financial Times
,
FOX News
,
Fusion
,
GameSpot
,
Google Chromecast
,
Hearst Television
,
iOS
,
Knight Foundation
,
Meredith
,
Microsoft
,
Nintendo
,
PBS
,
Roku
,
Sky News
,
Tribune Media
,
Turner Broadcasting
,
Vox
,
Watchup
,
Xbox