As part of the "Media Management in the Cloud" conference running at the NAB Show in Las Vegas this week, Brian McKay, executive vice president of production operations at Warner Bros., discussed the challenges and opportunities of moving the studio's archive into the cloud. In one of the final sessions of the conference, which concluded late Wednesday, McKay appeared onstage with David Cohen, senior editor at Variety, for a one-on-one conversation.
McKay (right), a 27-year veteran at Warner Bros., discussed the massive technological changes that have taken place in the industry over the course of his career. In the days of film, he said, preservation was fairly straightforward, involving photochemical negatives and cold storage, in a process that was stable, secure, and could last for decades. In the digital domain, all of that has changed, and the question of how best to preserve digital content is one with which all the major studios have grappled.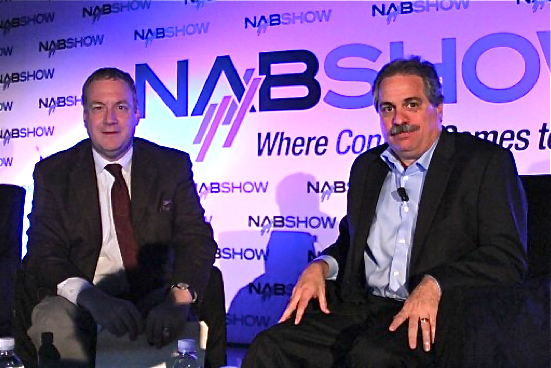 In Warner Bros. case, their solution was to form a partnership with the Shoah Foundation at USC. Founded with the help of Steven Spielberg nearly twenty years ago, The Shoah Foundation's mission is to collect and store video interviews with survivors of the Holocaust and other genocides. In the course of that work, they have developed an extensive architecture for the preservation of digital content, and will be now be home to the complete Warner Bros. archive.
McKay explained that the decision to find a longer term solution for archives had become pressing in recent years, as the studio now has digital content that is seven or eight years old that is still stored on LTO tapes, which typically begin to have errors at around that age. He highlighted that the decision to house the archive with USC was based partly on the benefit of partnering with a longstanding institution.
"USC has a long history," he said, "and a long future."
According to McKay, the studio now has approximately 15 petabytes of data stored with the University, a number expected to grow by 30 percent a year. (A petabyte is equal to 1,000 terabytes, which is the typical size of a modern hard drive in a personal computer). Part of that rate of growth is due to digital capture techniques, in which filmmakers who are no longer bound by the costs of film, will often simply leave cameras running, resulting in a much larger volume of data.
Cohen asked McKay about future technologies on the horizon that may offer an even longer-term solution for archive than cloud architecture. McKay mentioned a nascent technology known as DOTS, which may offer potential advantages, but sounded a note of caution about the future. He cited the case of the re-mastering of the 1959 classic "Ben-Hur," in which the original negative had been damaged by a protective coating that originally been intended to preserve it.
"In any environment where you're trying to store things in perpetuity," he said, "you face challenges."
Topics:
2014
,
Archive
,
Association
,
Ben Hur
,
Broadcast
,
Broadcasters
,
California
,
Camera
,
Cloud
,
Cohen
,
Confab
,
Conference
,
Data
,
DOTS
,
Event
,
Film
,
Foundation
,
Hollywood
,
Holocaust
,
interview
,
Las Vegas
,
LTO
,
Manage
,
Management
,
McKay
,
Motion Picture
,
Movie
,
NAB
,
National
,
Negative
,
Nevada
,
PC
,
Preservation
,
Preserve
,
Production
,
Secure
,
Shoah
,
Spielberg
,
Storage
,
Studio
,
Tape
,
Television
,
TV
,
USC
,
Variety
,
Video
,
Warner