Walmart has doubled the size of its Marketplace platform in the past 18 months, with about 100,000 active sellers. Now, the company — which receives seller applications at the rate of about 20,000 per month, about 10 percent of which get approved — feels it is within striking distance of Amazon. Some say Walmart has been emulating the moves of the Seattle-based e-retail giant, including now adding sponsored video ad units in time for the holiday shopping season. The Walmart+ online brand has been emphasizing convenience, membership, free delivery and even a Paramount+ Essential plan, similar to Amazon's approach of offering Prime Video.
These fringe benefits have paid off, according to Cord Cutters News, which reports online sales for Walmart have grown by 27 percent in Q1, citing Marketplace Pulse research.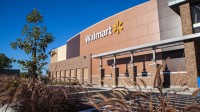 At a summer sales summit in Las Vegas, Walmart disclosed plans to convert some under-performing stores to fulfillment centers that can smooth the way for more efficient deliveries. Walmart says its ultimate goal is same-day delivery, just like Amazon.
But unlike Amazon's sweet spot, Walmart still has a lot of mileage in terms of customer value in things like in-store shopping and curbside pickup. "Marketplace Pulse said Walmart's unique strength in online retail comes from retail stores that fulfill 50 percent of online orders, and the Marketplace must integrate into that to unlock the next 100,000 sellers," Cord Cutters reports.
Accordingly, Walmart is still supporting its brick-and-mortar stores. The company earlier this year announced a $130 million plan to begin implementing a "Store of Tomorrow" concept with modernized layouts and expanded health services.
"Walmart still has a long way to go before it can eclipse Amazon in online shopping, but the increase in active sellers, as well as a 24 percent increase in online sales reported earlier this month, is promising progress," per Cord Cutters.
Currently, Walmart offers more than 400 million products available for purchase on its website, with the Marketplace of third-party sellers making up about 95 percent of that.
"When Walmart started allowing international sellers in March 2021, most of the growth came from Chinese sellers," according to a new Marketplace Pulse study, adding that "since April this year, the trend has reversed, and most new sellers are now from the U.S."
As part of its digital expansion, "Walmart Connect, the retail media unit of Walmart, is rolling out a sponsored video advertising format ahead of the holiday shopping rush," reports Marketing Dive, noting "this represents the network's first on-site video ad solution and is positioned as a key stepping stone toward offering more robust upper-funnel options for brand partners."