The annual VRX Conference & Expo is slated for December 6-7 in San Francisco. The ETC's Phil Lelyveld will be moderating a panel on the second day, focused on immersive storytelling with panelists including Ted Schilowitz of Paramount, Paul Raphael of Felix & Paul Studios, Bruna Berford of Penrose Studios and Ryan Pulliam of Specular Theory. VRX organizers are gathering a stellar lineup of top companies, execs and investors across entertainment and tech to cut through the hype and get to the heart of what's really happening in XR. For those interested in attending, enter code ETC15 at registration for a 15 percent discount.
Phil will moderate a panel that addresses "What's the Story? How VR and immersive tech are creating an entirely new medium for storytelling." This is just one of many sessions at VRX 2018 during which leading business leaders will track the real market opportunities and impacts of virtual, augmented and mixed reality.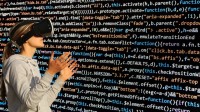 This year's event will feature compelling sessions with panelists from a wide range of companies and business areas, including game, film and content studios; hardware and software providers; enterprises and brands across multiple verticals; and analysts, media and investors.
For more information, visit the VRX 2018 site or register online.
Topics:
Animation
,
Augmented Reality
,
Bruna Berford
,
Enterprise
,
ETC@USC
,
Extended Reality
,
Felix & Paul Studios
,
Gaming
,
Hollywood
,
Immersive
,
Interactive
,
Mixed Reality
,
Movie
,
Paramount
,
Paul Raphael
,
Penrose Studios
,
Phil Lelyveld
,
Ryan Pulliam
,
San Francisco
,
Specular Theory
,
Ted Schilowitz
,
Virtual Reality
,
VRX 2018