Video game publishers Activision Blizzard, Electronic Arts and Take-Two Interactive Software are all on track to post strong earnings this week, the beneficiaries of increased game playing during the COVID-19 pandemic. According to analysts, these publicly traded game publishers have reaped rewards from players spending on virtual goods such as costumes for characters. FactSet predicts the companies will "more than double" their adjusted earnings from the same quarter from the previous year. The global games industry is valued at $149 billion.
The Wall Street Journal reports that Electronic Arts posted "the strongest June quarter sales in the video game company's 38-year history" last Thursday, adding that the company's "net bookings, a key industry sales metric that excludes deferred revenue, shot up 87 percent from a year earlier to $1.39 billion."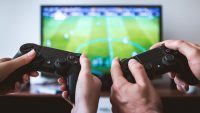 Though "net income fell 74 percent in its fiscal first quarter due to a nonrepeating tax benefit … adjusted profit more than quintupled to $1.42 a share." "The quarter was so wildly beyond our expectations," said Electronic Arts chief financial officer Blake Jorgensen. "Normally it's one of our quietest quarters."
According to KeyBanc Capital Markets analyst Tyler Parker, Electronic Arts, with sports simulation franchise "FIFA," and Take-Two, with "NBA 2K," "also likely got a lift from delayed starts for professional sports … [as] broadcasters such as ESPN showed people competing at them." Parker noted that these games are "probably the closest substitute right now and people are probably playing more."
All three video game companies have seen their share prices jump "an average of 27 percent over the past three months … [compared] with a more than 11 percent rise in the S&P 500 index." "They're all going to have an amazing quarter," said Wedbush Securities analyst Michael Pachter.
Other game companies reporting "significant growth" include Microsoft's 65 percent uptick in Xbox content and services, Ubisoft's "record quarterly net bookings," and "a surge in users for Roblox, maker of a platform with millions of free games," whose third-party developers are "on track to more than double their earnings this year from 2019."
Electronic Arts, Activision Blizzard and Take-Two are also benefitting from a move away from selling console and computer games for a one-time fee to "making those games free, with the option for players to repeatedly purchase low-cost digital goods and services" dubbed microtransactions. That allows them to "generate more revenue from older games because people tend to plunk down more cash on digital add-ons the longer they play."
Analysts believe that "with the new coronavirus still spreading in many parts of the world, including the U.S., and next-generation consoles due out later this year, the global video game industry is poised to keep growing." Sony's new PlayStation 5 and Microsoft's Xbox Series X are anticipated to "be meaningful sales drivers that offer the chance to engage users with their newest content."
According to Newzoo, "spending on game software worldwide is projected to climb 9.3 percent this year to $159.3 billion … up from a 5.2 percent increase in 2019."
Topics:
Activision Blizzard
,
Blake Jorgensen
,
Coronavirus
,
COVID-19
,
Electronic Arts
,
ESPN
,
FactSet
,
FIFA
,
KeyBanc Capital Markets
,
Michael Pachter
,
Microsoft Xbox
,
Microtransactions
,
NBA 2K
,
Newzoo
,
Roblox
,
Sony PlayStation 5
,
Take-Two Interactive
,
Tyler Parker
,
Ubisoft
,
Video Games
,
Virtual Goods
,
Wedbush Securities
,
Xbox Series X