In the face of the COVID-19 pandemic, the wares and services of Big Tech companies such as Amazon, Apple and Facebook have become more indispensable than ever. As such, they are thriving. Amazon, for example, reported $88.9 billion in sales, with profits doubling to a record $5.2 billion in the quarter ending June, even though it spent $4 billion on its supply chain and worker safety in that time frame. Apple marked an 11 percent increase in quarterly sales, and Facebook sales rose 11 percent to $18.7 billion.
The Wall Street Journal reports that, "Google parent Alphabet was the outlier … reporting a decline in quarterly revenue compared with a year earlier for the first time in company history," even though its sales "beat analyst expectations, and its profit, though down 30 percent, was still more than $6 billion." Shares in all four companies rose, with Amazon, Apple and Facebook gaining 5+ percent and Alphabet rising almost 1 percent.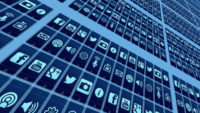 WSJ notes that, "the extraordinary display of business resilience amid the sharpest economic contraction in history put a spotlight on Big Tech's unstinting rise only a day after the chief executives of the same four companies were grilled by members of the House Judiciary Committee investigating antitrust concerns."
"The Internet is the connective glue in Apple devices, Facebook ads, the Amazon shipments," said Jefferies analyst Brent Thill. "Ultimately, we think there is a more permanent tailwind behind these Big Tech companies." Early on in the pandemic, Amazon spent $4+ billion hiring workers, raising pay and taking steps to ensure employee safety.
This year, according to FactSet, Amazon's shares have surged 60+ percent, "more than double the increase for other tech giants such as Apple and triple that of retailers that have largely kept stores open such as Home Depot."
"We don't know when we will recover out of this COVID crisis, but one thing that is certain is that these [shopping] trends are taking hold, and that's why more and more people are hiding in Amazon," said Neuberger Berman Group portfolio manager Hari Srinivasan, whose company owns about $1.8 billion worth of Amazon shares. Amazon chief financial officer Brian Olsavsky, who said the profit was "helped by sales of more profitable items on the website," estimated the company will spend about $2 billion in COVID-related costs in Q3.
At the House hearing, company chief executive Jeff Bezos was asked about "revelations in a Wall Street Journal article that Amazon employees have used data from sellers to form its private-label products." Bezos said the company is investigating the charge. Advertising may be the biggest business challenge going forward for Facebook, which experienced an advertiser boycott, and Google, which has seen its digital advertising revenue slump.
"We do believe it's premature to say we are out of the woods," said Alphabet chief financial officer Ruth Porat.
Topics:
Advertising
,
Alphabet
,
Amazon
,
Antitrust
,
Apple
,
Big Tech
,
Brent Thill
,
Brian Olsavsky
,
Congress
,
Coronavirus
,
COVID-19
,
E-Commerce
,
Facebook
,
FactSet
,
Google
,
Hari Srinivasan
,
Home Depot
,
Internet
,
Jeff Bezos
,
Jefferies
,
Neuberger Berman Group
,
Private Label
,
Ruth Porat
,
Safety
,
Search
,
The Wall Street Journal