At CES, Hisense showed its new line of VIDAA smart TVs, the first to incorporate Android since Google TV ceased to formally exist. The new displays come after Google scrapped the manufacturing of its own display and began allowing other manufacturers to build TVs with built-in Android technology. Google services like Chrome and TV programming guide Primetime are available on the displays. The platform was developed by Ontario-based design and engineering company Jamdeo.
"The new Hisense VIDAA TVs are a first example of types of Android-based TVs in a post-Google TV era, and they show that the new freedom allows manufacturers to actually innovate and combine some of the better Google and Android apps with their own take on how smart TVs should look like and function," reports GigaOM.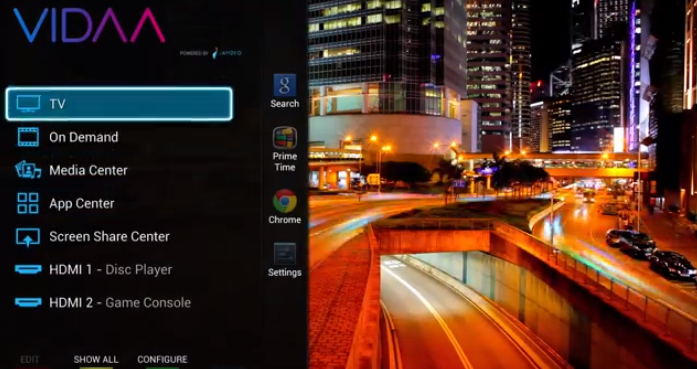 By giving up control of the TV design and production, Google is enabling other manufacturers to make their own decisions on how the Android-powered TVs should perform.
The resulting VIDAA smart TVs, GigaOM says, "are encouraging." As far as design goes, Jamdeo opted to get rid of the home screen and bundle apps and services around different activities. The article notes that "the ability to jump back and forth between these activities without having to back out of an app and launch another one is also neat, and the recognition that home media sharing is key to smart TVs, and possibly one day just as important as Netflix or any other video service, is right on the money."
These TVs were built to compete with major brands like Samsung and LG, and with a more user-friendly menu and display options, they're likely to do that well.
"Sure, there are still things to improve and some redundant features," GigaOM says. "But this is a big first step."
During CES, Hisense announced that its Internet-based TV sets will be introduced to the North American market in March.
Topics:
Android
,
App
,
Bundle
,
Canada
,
CEA
,
CES
,
Chrome
,
Design
,
Display
,
Google
,
Google TV
,
Guide
,
Hisense
,
Home Screen
,
Jamdeo
,
Las Vegas
,
LG
,
LINE
,
Manufacture
,
Menu
,
Netflix
,
Ontario
,
Primetime
,
Program
,
Programming
,
Samsung
,
Screen
,
Sharing
,
Smart TV
,
Stream
,
System
,
Television
,
TV
,
UI
,
Vidaa
,
Video