Google released a new app this week in Apple's App Store that allows users to watch their Google media content directly from an iPhone or iPad. The app, called Google Play Movies & TV, is a significant step in the company's content strategy, since iOS users can now watch movies and television shows purchased or rented on Google Play. However, similar to the Kindle app, users will not be able to buy or rent content directly from the app itself, but will need to access the browser.
"Though not as feature-rich as its Android counterpart, the free app nevertheless offers iPhone, iPad, and iPod touch users a new option when it comes to watching content on their mobile device, with possible cash savings to be made as the Play store goes head to head with Apple's iTunes store," reports Digital Trends.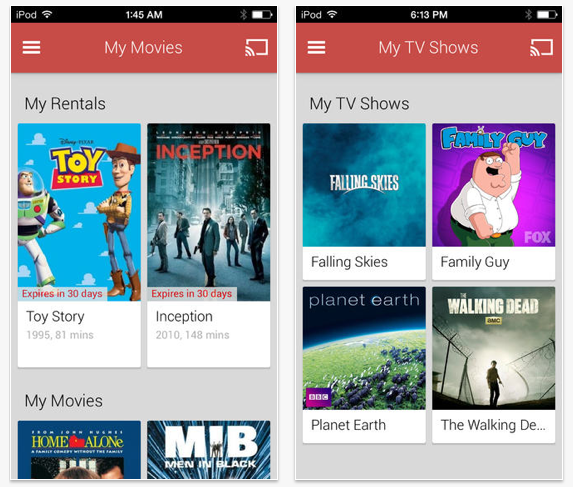 "The highlight feature of the new app will please iDevice-owning Chromecast users, as Google's dongle can be used together with the new app to stream content — in high definition — to a TV from your Apple device, functionality that could see Google score a few extra sales over Apple's iTunes store."
Google Play Movies & TV on Apple's mobile platform arrives a few months after Google launched its Google Play Music app for iOS, with access to Google's catalog of some 20 million tracks. Google Play Books is also already available on iOS.
"With today's release, Google is using a strategy that was very efficient in Amazon's case with the Kindle — if you want to make people switch to your content ecosystem, release your app on every major platform," notes TechCrunch. However, "Apple still has two key advantages over Google on iOS. The iTunes app is already installed on your iOS device when you first launch it, and Apple rejects apps with an integrated content store. That's why you can't buy books from the Kindle app on iOS — it's one of the iOS SDK rules."
Topics:
Amazon
,
Android
,
App
,
Apple
,
Books
,
Chromecast
,
Content
,
Distribution
,
Dongle
,
Ecosystem
,
Film
,
Free
,
Google
,
HD
,
iDevice
,
iOS
,
iPad
,
iPhone
,
iPod
,
iTunes
,
Kindle
,
Launch
,
Mobile
,
Movie
,
Music
,
Patform
,
Phone
,
Play
,
Program
,
Purchase
,
Rent
,
SDK
,
Series
,
Show
,
Smartphone
,
Song
,
Store
,
Strategy
,
Stream
,
Streaming
,
Tablet
,
Television
,
Touch
,
Track
,
TV