Google is making a run for the connected home. On Monday, the company announced it is acquiring Nest Labs, a maker of smart smoke alarms and thermostats, for $3.2 billion. This is Google's second largest acquisition to date, behind the 2012 purchase of phone maker Motorola Mobility. Nest Labs is considered a poster child for the Internet of Things movement, a key focus of last week's CES in Las Vegas, where companies showcased sensor, communication, and computing tech to make everyday life easier.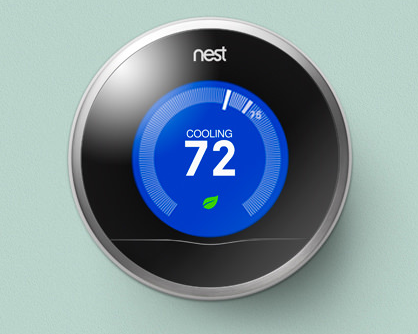 "Forrester analyst Frank Gillett said Google paid handsomely for Nest to stay ahead of competitors to control the next generation of smart devices, including appliances and door locks," reports The Wall Street Journal.
"This is about whose service — Google, Amazon, Apple, Microsoft and others — is going to coordinate your smart home for you," Gillett said.
The deal also brings a high-profile technology exec, Tony Fadell, to Google. Fadell is Nests's co-founder and chief executive, and formerly worked for Apple where he helped develop the iPod. Fadell will continue to run Nest while working for Google.
Nest sells products such as the Nest Thermostat and the Nest Protect smoke and carbon monoxide detector. It also generates revenue by working with utility companies to decrease energy use during high traffic periods.
"Nest products are sold in Apple's retail and online stores," notes the article. "Nest said it planned to continue supporting Apple's operating system so its devices can be controlled by an iPhone or iPad. An Apple spokesman declined to comment on whether Apple would continue to sell Nest products."
Topics:
Alarm
,
Amazon
,
Apple
,
Carbon
,
CEA
,
CES
,
Connected
,
Consumer
,
Detector
,
Electronics
,
Energy
,
Fadell
,
Forrester
,
Gillett
,
Google
,
Home
,
House
,
Internet
,
IoT
,
iPad
,
iPhone
,
iPod
,
Journal
,
Las Vegas
,
Microsoft
,
Monoxide
,
Motorola
,
Nest
,
Nest Labs
,
Retail
,
Sensor
,
Show
,
Smartphone
,
Smoke
,
Steve Jobs
,
Stores
,
Tablet
,
Technology
,
Thermostat
,
Wall Street