Millennials discover and listen to music differently than past generations, spending an average of 25 hours a week on streaming music services including Vevo, Pandora and Spotify. That's one result reported by Vevo in its "Music Fan Report," slated for release next week. Another way that millennials differ from past generations is that they generally do not consider themselves fans of any particular genre but rather are interested in finding new music, regardless of its musical category.
Variety reports that the streaming music services themselves are "beginning to influence what millennials are listening to, and how they define themselves as fans." Vevo's report, which quizzed 2,000 users in Q1 2015, states that only 25 percent of fans enjoy a single genre, with one-third saying their musical tastes are broader, and more than 60 percent saying they are "always trying to find new music."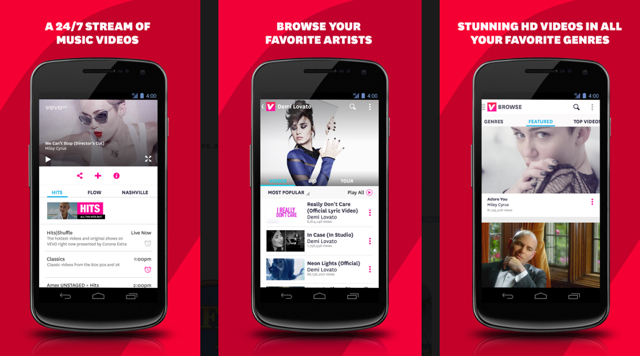 Vevo is the most popular streaming music site, with 87 percent of all music fans saying they visit the platform, for an average of 13.3 hours per week. A Vevo spokesperson says the company doesn't break down viewers by platform, but that it boasts "more than 12 billion video views worldwide per month."
Pandora comes in second, with 62 percent of all listeners listening for 8.1 hours per week on average. Spotify and SoundCloud come in third and fourth in Vevo's survey, which also reports that Google Play bests iTunes Radio, Amazon Music and iHeartRadio for audience share, and attracts more weekly listening time than SoundCloud.
Variety notes, however, that the survey was conducted before Apple Music went live in June. Google's YouTube, "widely being seen as the biggest online music service," was also not mentioned, most likely because Vevo distributes its music on YouTube, and is Google's "biggest source for major label content on the platform."
Topics:
Amazon
,
Amazon Music
,
Apple Music
,
Google
,
Google Play
,
iHeartRadio
,
Internet
,
iTunes Radio
,
Licensing
,
Millennial
,
Mobile
,
Music
,
Music Fan Report
,
Music Label
,
Music Video
,
Pandora
,
Radio
,
Song
,
SoundCloud
,
Spotify
,
Streaming Music
,
Track
,
Vevo
,
YouTube