Several translation gadgets made a showing at CES 2020, among them the Ambassador, released last November from Brooklyn-based Waverly Labs, an over-the-ear gadget aimed at travelers. Pocketalk is a translation device that's popular in Japan and will soon arrive in the U.S. TranslateLive's ILA Pro adds a subscription-based service for real-time translation. Langogo Minutes is a device that records up to seven hours of audio and provides written transcripts of what it hears. And the WT2 Plus from Timekettle is a multi-language translator in the form of earbuds.
Engadget reports that the Ambassador (below) "listens to and translates into text any spoken word within eight feet, via an Android or iOS app connected via LTE or Wi-Fi … [and] can interpret 20 languages and 42 individual dialects." It can also be connected to a speaker system, "enabling the user to address and take questions from an audience." Priced at $200, it offers about six hours per charge and is slated to ship in March 2020.
Pocketalk, priced at $300, is "a palm-sized device" (below) with a larger screen that makes it easier to read the transcription; a back-mounted camera helps decipher text. It understands 74 different languages (55 for a two-way conversation); can convert currency, length, width and temperature; and offers a pre-installed SIM card for operation in 130 countries. It also comes with a two-year LTE data plan and can connect to Wi-Fi.
TranslateLive's ILA Pro (Instant Language Assistant) can translate 120 languages and dialects and is comprised of "a pair of touch screens connected at the top by a hinge," explains Engadget. Translating in real-time, it outputs in text to each screen and "can also access existing free TRS services from the FSS and connect via Bluetooth with braille displays and hearing aids." ILA Pro (below) can also call a live interpreter if necessary. It's priced at $1,000 with an annual $120 subscription fee.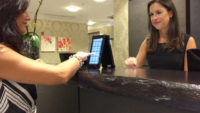 The $90 Langogo Minutes (below) translates in 100+ languages with "a claimed 80 percent accuracy rate," but isn't yet available. The company will debut an Indiegogo campaign in September, with plans to ship by end of year. A built-in Cloud-SIM card will provide access to 3G and 4G mobile networks in 72 countries; it also offers Wi-Fi.
"Powered by AI, Langogo is also your smart translation assistant for global traveling. It can translate and transmit the conversation into voice output as well as displays the text in real-time," explains the company's site, which emphasizes applications such as interviews, negotiations, lectures, travel notes, placing orders and asking directions.
The $240 WT2 Plus Wearable Translator earbuds from Timekettle (below) essentially look like "knock-off Air-Pods," suggests Engadget, are designed to be shared between people, and translate 40 languages and 88 accents. According to the WT2 promo video, Timekettle "built the first translator in the world to connect two earphones to just one app. The WT2 comes in a streamlined charging case. It wakes up and pairs automatically, making it ready at a moment's notice."
CES 2020 also highlighted some specialty translation gadgets. CryAnalyzer Auto, "developed in conjunction with Japan's NCCHD (National Center for Child Health and Development) … leveraged data from 500,000 new parents to train their AI." The app attempts to determine if a newborn to six-month-old baby is "hungry, angry, sleepy, uncomfortable or bored," and the developer claims 80+ percent accuracy. After debuting in Japan in August, it will come to the U.S. and Australia priced at either $300 to buy outright or between $10 and $20 a month.
Also from Japan, Inupathy is a vest "that can help dog owners understand what their pups are thinking about," reports Engadget. Comprised of a harness, a heart rate monitor and a smartphone app, "Inupathy claims to estimate your dog's current emotional state," which is displayed on a LED screen on the harness.
Topics:
3G
,
4G
,
Ambassador
,
Android
,
App
,
Artificial Intelligence
,
Audio
,
Bluetooth
,
Braille
,
Brooklyn
,
CES 2020
,
Cloud
,
CryAnalyzer Auto
,
CTA
,
Ila Pro
,
Indiegogo
,
Inupathy
,
iOS
,
Japan
,
Langogo Minutes
,
LTE
,
NCCHD
,
Pocketalk
,
Real-Time Translation
,
SIM
,
Subscription
,
Transcripts
,
TranslateLive
,
Translation
,
Waverly Labs
,
Wi-Fi
,
WT2
,
WT2 Plus