At CES 2020, the non-profit standards organization Bluetooth Special Interest Group announced that LE (Low Energy) Audio would be incorporated into its technology, improving a standard signal's ability to manage and share wireless audio streams between devices — without stressing the batteries. In fact, since 2012, Bluetooth has incorporated LE features, dubbed Bluetooth Smart and BLE, to allow wearables and sensors to stay connected and minimize battery drain. But it has had no impact on wireless audio devices, which LE Audio hopes to remedy.
Wired reports that LE Audio will use "a new compression algorithm that maintains the same high audio quality you get from Bluetooth right now" while enabling manufacturers using its specs to "design wireless products that get nearly double their current play time, or even shrink the battery to reduce the overall device size."
LE Audio arrives as wireless devices such as AirPods "surge in popularity." With these more recent advancements, developers have really stretched Bluetooth audio to its limits," said Bluetooth SIG vice president of marketing Ken Kolderup. "In order to deliver some of these new things like voice control in earbuds, vendors have had to really get creative in how they use the Bluetooth standard."
The current Bluetooth's "single-stream connection … slingshots the signal" from one bud to the other, often resulting "in a delay in sound between the two ears, stuttering audio, or a dropped connection." If two devices are connected, "any new audio source will interrupt whatever is currently playing."
LE Audio's multi-stream support lets the user "connect to more than one audio device (or earbud) at the same time, without interrupting the audio stream of anything else that's already connected." With multi-stream, a user can also "broadcast" a Bluetooth signal "to a theoretically unlimited number of devices," opening up many new opportunities.
"At airports, at gates and lounges, at sports bars and restaurants, at gymnasiums and waiting rooms — many of these locations now have televisions installed and they're largely silent," Kolderup said. "Now imagine being able to walk into any of those locations and, from a standard headset, being able to scan for and tune in to the audio from one of those TVs."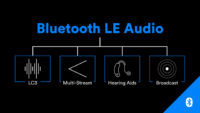 LE Audio will also mean "smaller, longer lasting batteries and the ability to connect to almost any conceivable audio source," which, he said, "can bring all those benefits of Bluetooth audio — calling and listening and watching and so forth — directly to hearing aids."
TechRadar reports that Bluetooth LE is based on "the LC3 codec … capable of compressing and decompressing data more efficiently than SBC, which means that Bluetooth wireless chips can do their jobs without drawing as much power." Bluetooth-enabled hearing aids will become "an easy way to connect to …TVs and mobile devices directly."
Multiple headphones can also connect to a single audio source. It predicts that, in two years, "not only will companies adopt the latest version of Bluetooth, but they'll then tout features like 50 percent better battery life in future products without mentioning the fact that it's only possible because of LC3 and Bluetooth LE Audio."
For more information on LE Audio, visit the Bluetooth Special Interest Group site. The group's Bluetooth Blog also features a CES post that provides an overview of the new upgrade. (Images above are from the Bluetooth SIG LE Audio media kit.)
Topics:
AirPods
,
Algorithms
,
Audio
,
Audio Sharing
,
Batteries
,
BLE
,
Bluetooth
,
Bluetooth SIG
,
Bluetooth Smart
,
CES 2020
,
Compression
,
CTA
,
Earbud
,
Headphones
,
Headsets
,
Hearing Aid
,
Ken Kolderup
,
LC3
,
LE Audio
,
Mobile
,
Mobile Devices
,
Multi-Stream
,
Music
,
SBC
,
Sound
,
Voice Control
,
Wireless
,
Wireless Audio