According to sources, Apple will debut an iPhone with a rear-facing, longer-range 3D camera as early as next year, with the goal of enabling augmented reality applications. The planned 3D camera would work up to 15 feet from the device, in contrast with Apple iPhone's current 3D camera which points toward users and is limited to distances of 25 to 50 centimeters for use with Face ID facial recognition. The new camera uses a laser scanner, better for long distances, said sources, rather than dot-projection technology.
Bloomberg reports that features for upcoming iPhones include "a third, more advanced camera, enhanced photo-capture tools and a more powerful chip." In addition to AR, the new 3D camera would enable photos with better depth capture. Sources also said that Apple "has been in talks with Sony Corp. about testing sensors for the new system."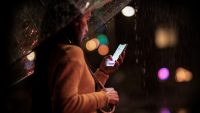 One source said that the new 3D camera could "debut first on an upgrade to the iPad Pro currently planned for as early as spring 2020." In the past, Apple has introduced some major new features — such as 4G Internet connectivity — first on the iPad.
Bloomberg also notes that, "the 2020 iPhone camera may be a prelude to an AR headset that Apple has been preparing for as early as 2020." In 2019, Apple will, again according to sources, likely release "successors to the iPhone XS and iPhone XS Max — code-named D42 and D43 — and an update to the iPhone XR."
The same sources added that, "the larger of the new high-end iPhones will have three cameras on the back, and other handsets could eventually come with the upgraded system, too." Three cameras will enable capture of a larger field of view and a wider range of zoom. The increased pixel count would also enable Apple software to "repair a video or photo."
As iPhone sales slump, "cameras have become one of the most-important features … [and] better photos are a compelling reason for people to upgrade their handsets." That makes upgraded cameras a key factor in Apple's attempt to boost flattened sales. The company also plans to upgrade its Live Photos feature, "which pins video from before and after each shot to the photo," by extending the video from three to six seconds. Sources said that Apple is testing a USB-C connector on some iPhones, rather than the Lightning port, "indicating that the company plans an eventual switch."
The move would make new iPhones "compatible with chargers used for hundreds of other devices, like Android phones." In 2019, new iPhones will also feature "an upgraded Apple processor and use an updated Face ID sensor for unlocking the device and approving payments." As early as 2020, new phones will "accommodate plans for 5G networking capabilities."
Apple is also expected to release "an updated version of its lower-cost iPad with a roughly 10-inch screen and a faster processor," and is also "readying a new, cheaper iPad mini, its smallest tablet that hasn't been updated since 2015." Its next operating system update, iOS 13, "will include a dark mode option for easier nighttime viewing and improvements to CarPlay."
Topics:
3D Camera
,
4G
,
5G
,
Android
,
Apple
,
Augmented Reality
,
CarPlay
,
Depth Capture
,
Dot Projection
,
Face ID
,
Facial Recognition
,
iOS 13
,
iPad
,
iPad mini
,
iPad Pro
,
iPhone
,
iPhone XR
,
iPhone XS
,
iPhone XS Max
,
Laser Scanner
,
Lightning Port
,
Live Photo
,
Sensor
,
Sony
,
USB-C