Ubisoft becomes the first major game company to dive into NFTs with Ubisoft Quartz, a platform that lets players acquire non-fungible tokens on the Tezos blockchain. Quartz goes live this week in beta with "Tom Clancy's Ghost Recon Breakpoint" for PC. Players will be able to purchase or earn in-game "Digits" — Quartz's term for NFTs — which will be collectible in-game vehicles, weapons, and pieces of equipment. Ubisoft is touting Tezos as the technology behind "the first energy-efficient NFTs playable in a AAA game," comparing it to processor-hogs like Bitcoin and Ethereum.
"Ubisoft Quartz is the first building block in our ambitious vision for developing a true metaverse," Ubisoft Strategic Innovation Lab vice president Nicolas Pouard said in a news release. "And it can't come to life without overcoming blockchain's early-form limitations for gaming, including scalability and energy consumption."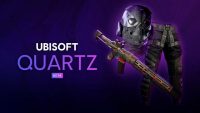 "Tezos claims that a single transaction on its network uses 'more than 2 million times less energy' than Bitcoin, the leading cryptocurrency," reports Decrypt. "It also suggests that a single Tezos transaction uses about as much energy as a 30-second streaming video, whereas a Bitcoin transaction is estimated to measure up to the environmental impact of a full, uninterrupted year of streaming video footage."
An NFT is a unique piece of data stored on the blockchain. It can be imagery, text, video game items, as long as it's digital. Its provenance, including ownership, is written to the blockchain as hashed data, often a URL that links to the asset. "Ethereum-powered monster-battling game 'Axie Infinity' is currently the biggest player" in the NFT space, writes Decrypt, which says the game has generated "more than $3.6 billion in trading volume to date."
Ubisoft's experimentation in crypto and NFTs dates back to 2019's development of the unreleased prototype "HashCraft." "Since then, Ubisoft has worked with numerous crypto startups through its Entrepreneurs Lab accelerator program," Decrypt explains. In October, Ubisoft invested in the NFT-centric game startup Animoca Brands, joining Samsung and others in a $65 million funding round.
Ubisoft says it will release Digits "as part of limited Editions," and specifies that players can only own one item in each Edition. "That could create scarcity for the items," which can be re-sold, writes The Verge. Ubisoft says people 18-and-over can create a Tezos wallet to purchase or earn points to trade for Quartz NFTs, which will initially be available only to players who reach XP level 5 in "Ghost Recon Breakpoint" on Ubisoft Connect for Windows PC.