Since Jack Dorsey returned last year as chief executive of Twitter, he has done everything he could think of to improve the company's fortunes, including lay-offs, new executives and a board shake-up. Recent numbers, however, have shown that not much has changed — its monthly 320 million visitors in Q4 2015 are the same as the previous quarter. The pressure is on to find a formula that works, and Dorsey is betting that tweaking existing features and adding an algorithmic timeline might help sustain and build the user base.
The New York Times reports other changes Twitter is planning, including making its use more intuitive to newcomers. In a call with investors, Dorsey emphasized that, "there's a lot of opportunity to fix the broken windows and confusing aspects of our product." He also stressed that its "live" feature is core to the product.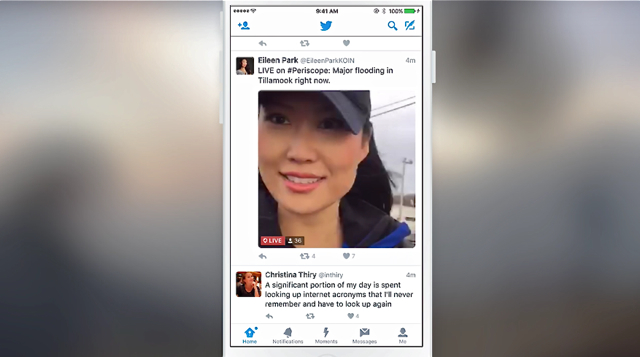 Still, Twitter is finding it hard to convince investors that it has an appeal that's competitive with Facebook, which at 1.59 billion users, is five times its size. That's why Twitter's shares have dropped about 67 percent in the last year, most recently dipping down when the company estimated revenue between $595 million and $610 million in the current quarter, below Wall Street expectations of $623 million.
Dorsey says that Moments, a human-curated way of highlighting activity introduced last year, and Periscope, its live video app, were both showing promise. He also rolled out what Wired is calling "the most fundamental change it has ever made: a major tweak to the timeline." Apparently, Twitter customer research found out that its users suffered from FOMO (Fear of Missing Out), and created an algorithm to help them out.
"We wanted to change that feeling of missing out," said product manager Michelle Haq. The feature will "dramatically increase the number of tweets you see that you actually care about," explains Wired, but in a very specific way. When a user returns to Twitter after having been away, he or she will first see the most important tweets since the last visit, as determined by that algorithm. It's not all that different from the current "While You Were Away" feature, but it won't be highlighted.
How many missed tweets will a user see before the one 10-seconds ago? Haq says it depends on the number of followers the user has. "If you follow 1,000 accounts, and I follow 20 accounts… it might happen for you more often than it happens for me," she explains. The effect, Twitter hopes, will be a "greatest hits compilation." The feature will not be turned on by default initially but in the next few weeks, users will get a pop-up notification that it is. A user can opt out in settings.
The change has some Twitter users in an uproar that Twitter's entire timeline could become "algorithmically powered" as it is on Facebook. Wired suggests that Twitter users relax and get used to it. "It'll almost certainly feel like Twitter again," says Wired. "Just a little more useful now — at least, that's what Twitter's hoping."
Topics:
Algorithm
,
App
,
Communication
,
Default
,
Facebook
,
Followers
,
FOMO
,
Jack Dorsey
,
Live Video
,
Michelle Haq
,
Moments
,
Periscope
,
Revenue
,
Social Media
,
Timeline
,
Tweets
,
Twitter
,
Twitter Live
,
Video
,
Wall Street