At NAB 2019 in Las Vegas, a coalition of U.S. broadcasters announced that the new TV standard, ATSC 3.0, will roll out to 40 markets by the end of 2020. The capabilities of ATSC 3.0, which is based on an IP (Internet Protocol) network, include 4K, HDR and over-the-air mobile reception of TV content. TVNewsCheck contributing editor Glen Dickson, who moderated a panel of broadcasters and others involved with the advanced TV standard, noted that the announcement is "a big boost" to ATSC 3.0's fortunes.
The Advanced TV Systems Committee first began work on the next-gen standard in 2013; among the many tests and refining of technologies, NBC affiliate WRAL-TV in Raleigh, North Carolina launched an experimental ATSC 3.0 channel.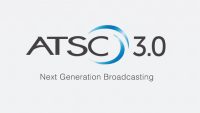 In November 2017, Pearl TV — a consortium of Cox Media, Graham Media Group, Hearst Television, Meredith Corporation, Nexstar Media Group, Scripps Media and Tegna — announced that Phoenix, Arizona would be a test market for the ATSC 3.0 transition. Shortly thereafter, the FCC voted to authorize voluntary deployment of the standard.
Pearl TV managing director Anne Schelle noted that there are four stations in Phoenix undergoing the transition. "The standard is now a spec. We have to thread the needle, and we're doing that," she mentioned. The group also did a consumer survey last October, showing off the many new services that ATSC 3.0 could bring.
"We saw interest for ATSC 3.0 across viewer segments, including millennials," she said. "Different types of viewers wanted different types of services, including sports, high-quality video and audio components. Gen Z wanted a modernized guide. We recognize the need to stand out in the marketplace, and we want to offer enough services to make it interesting for LG to develop TV sets."
LG senior director of content innovation Matthew Durgin reported his company is "highly invested in 3.0." "We integrated Internet content about three years ago, and the reaction has been strong consumer adoption and huge duration session times. But it all starts with content, and we don't make content."
Verance executive vice president/chief technology officer Joe Winograd described how his company's watermark technology is available to those providing ATSC 3.0 services. "This standardized watermark is a compatibility message recognized by the TV set that then delivers the experiences over broadband and legacy broadcast channels, attached OTT boxes and STBs," he said. "It can also leave a log file, footprint or even measurement data to the measuring company of your choice."
San Diego-based KPBS associate general manager Bruce Rogow described how his station was the site where Verance and Dolby conducted tests on dialogue that was enhanced and delivered through the Internet — all of which can be part of the ATSC 3.0 delivery. "There is so much inside ATSC 3.0," said Winograd. "With the Dolby technology that Bruce's station tested, you can even run legacy 5.1 mixes through the encoder to get dialogue enhancements."
Winograd also noted that "getting early adopters to generate interest is always an issue." Durgin agreed. "Working together to create a marketing message is important," he said. "There are a lot of technologies that go into selling TVs today so getting a uniform 3.0 benefits message out there would be great for the industry and LG."
Topics:
4K
,
Anne Schelle
,
ATSC 3.0
,
Bruce Rogow
,
Cox Media Group
,
Dolby
,
Glen Dickson
,
Graham Media Group
,
HDR
,
Hearst Television
,
Joe Winograd
,
KPBS
,
LG
,
Matthew Durgin
,
Meredith Corporation
,
Mobile
,
NAB 2019
,
NBC
,
Nexstar Media Group
,
Pearl TV
,
Scripps Media
,
STB
,
Tegna
,
Television
,
Verance
,
WRAL-TV