President Trump has named Ajit Pai as chairman of the Federal Communications Commission. He will replace Tom Wheeler, who stepped down on Friday. Pai, appointed as an FCC commissioner in 2012 by President Obama, has opposed many of the Commission's recent initiatives, such as regulating cable mergers, introducing consumer privacy protection, and establishing net neutrality. In a December letter to the leaders of CTIA, NTCA, WISPA, the American Cable Association and Competitive Carriers Association, Pai and fellow commissioner Michael O'Rielly wrote of net neutrality's "disproportionate impact … on smaller sized broadband providers," promising to "revisit … the Title II Net Neutrality proceeding … as soon as possible."
"I am deeply grateful to the President of the United States for designating me the 34th chairman of the Federal Communications Commission," Pai Said in a statement. "I look forward to working with the new Administration, my colleagues at the Commission, members of Congress, and the American public to bring the benefits of the digital age to all Americans."
"There is so much we can do together to bring the benefits of the digital age to all Americans and to promote innovation and investment," he tweeted.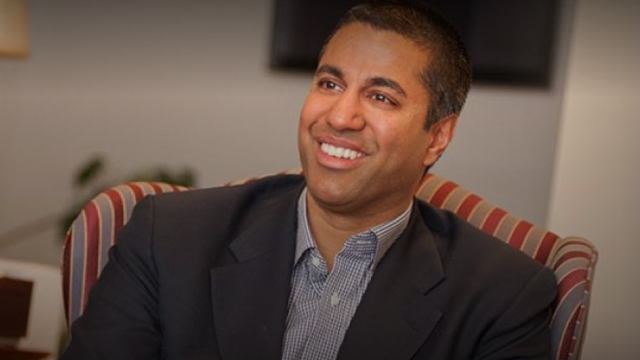 "Pai has long been critical of net neutrality, saying that the problem it's trying to solve — big Internet providers acting as gatekeepers to what we see and do online — doesn't exist," reports The Verge. He recently predicted "that the commission's Open Internet Order, which established net neutrality, would be reversed or overturned in one way or another."
"Pai also criticized an FCC report on 'zero rating' earlier this month, characterizing it as a meaningless document that won't influence the FCC under Trump," explains TVNewsCheck. "The report … took issue with the way companies like AT&T and Verizon exempted their own video services from wireless data caps, effectively making them cheaper to stream on phones and tablets than rival services such as Netflix."
Advocates of an Open Internet are already expressing their concerns.
"Pai has been an effective obstructionist who looks out for the corporate interests he used to represent in the private sector," said Craig Aaron, president of the nonprofit Free Press. "If the new president really wanted an FCC chairman who'd stand up against the runaway media consolidation that Trump himself decried in the AT&T-Time Warner deal, Pai would have been his last choice — though corporate lobbyists across the capital are probably thrilled."
"Some of the things we've seen in his record are certainly problematic for consumers and for competition," added Chris Lewis, vice president of the nonprofit Public Knowledge. "Whether it's his opposition to Open Internet rules, or opposition to basic privacy online, or opposition to the effort to extend the Lifeline program subsidies to broadband so that low income Americans have access to basic 21st century communications."
According to Pai's bio on the FCC site (which features the photo above), his regulatory philosophy "will result in more innovation, more investment, better products and services, lower prices, more job creation, and faster economic growth." The site lists the following beliefs:
Consumers benefit most from competition, not preemptive regulation. Free markets have delivered more value to American consumers than highly regulated ones.
No regulatory system should indulge arbitrage; regulators should be skeptical of pleas to regulate rivals, dispense favors, or otherwise afford special treatment.
Particularly given how rapidly the communications sector is changing, the FCC should do everything it can to ensure that its rules reflect the realities of the current marketplace and basic principles of economics.
As a creature of Congress, the FCC must respect the law as set forth by the legislature.
The FCC is at its best when it proceeds on the basis of consensus; good communications policy knows no partisan affiliation.
"Without qualification, NAB supports President Trump's selection of Ajit Pai to the position of FCC chairman," said NAB president Gordon Smith. "Ajit Pai is a known quantity who brings integrity, good humor and a fierce intellect to the commission. We look forward to working with him and his colleagues on a pro-growth FCC agenda that benefits tens of millions of Americans who rely on free broadcast radio and TV for the most popular content, credible news, and lifeline local emergency alerts."
Topics:
Ajit Pai
,
American Cable Association
,
AT&T
,
Barack Obama
,
Broadband
,
Cable
,
Chris Lewis
,
Competitive Carriers Association
,
Craig Aaron
,
CTIA
,
Donald Trump
,
FCC
,
Free Press
,
Gordon Smith
,
Internet
,
ISPs
,
Michael O'Rielly
,
NAB
,
Net Neutrality
,
Netflix
,
NTCA
,
Open Internet Order
,
Privacy
,
Public Knowledge
,
Time Warner
,
Title II
,
Tom Wheeler
,
Verizon
,
Wireless
,
WISPA
,
Zero Rating