Samsung and LG, the world's two top TV manufacturers, recently announced they will unveil 105-inch curved Ultra HD LCD TVs at the Consumer Electronics Show in January. While the first wave of curved OLED TVs touted vivid colors and ultra-thin bodies, the prices were prohibitive for most consumers. Producing larger screens with liquid crystal display technology is a more affordable process, but the new curved sets are still expected to be rather expensive.
"The two South Korean consumer tech giants have been racing against each other to bring cutting-edge products to market," reports The Wall Street Journal. "This year, they both launched 55-inch curved TVs, though the rollout was seen as more of a marketing ploy. Samsung and LG were eventually forced to sell the TVs at discounts after limited consumer interest."
LG recently unveiled a 77-inch curved Ultra HD OLED TV, but the 105-inch model "uses LCD instead of the more expensive OLED, courtesy of improved TFT technology for an even backlighting across the curved surface," notes Engadget. "Furthermore, this 105UB9 model has a wider-than-usual 21:9 'CinemaScope' aspect ratio, thus providing a 5,120×2,160 UHD resolution."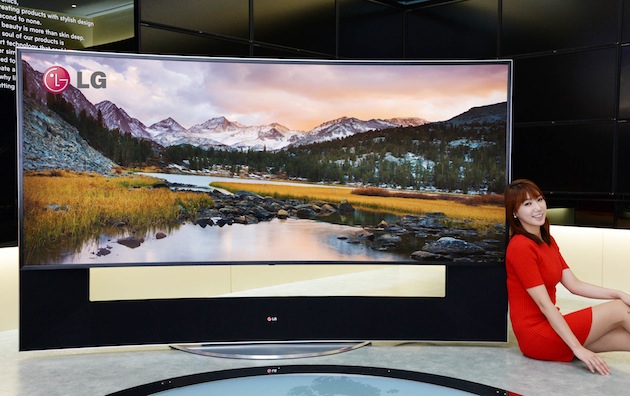 According to the Samsung blog, its 105-inch UHD model "is the world's most curved," providing "almost two times vivid images when viewed from the side and the best possible TV viewing experience from any angle. Also, the 105 incher adopts 'Quadmatic Picture Engine' which delivers all content in UHD-level picture quality no matter what the source is. Samsung's 105-inch Curved UHD TV boasts an 11 million pixels (5,120×2,160) screen resolution with a 21:9 aspect ratio."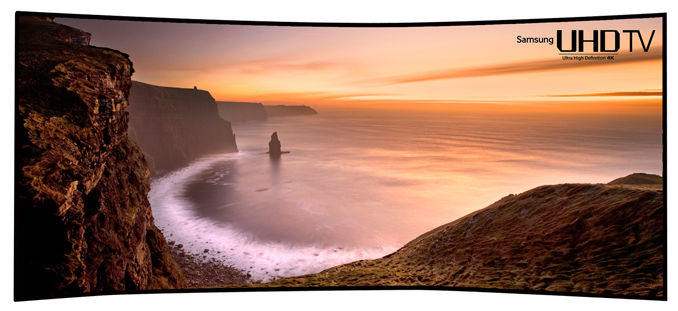 Neither company has announced when the curved TVs will be available on the market. Sony is the only other manufacturer with a curved 4K TV. The company introduced its 65-inch curved LED HDTV ($3,999) in September.
"Research firm IHS forecast earlier this year that shipments of UHD LCD TVs in the U.S. will rise to an estimated 4.6 million units in 2018, from just 200,000 units in 2013, with ultra-HDs accounting for 13 percent of total U.S. LCD TV shipments," notes WSJ. "While the average UHD TV will cost four times as much as the average for all LCD TVs in the U.S. this year, the price gap will narrow to 2.6 times in 2018, according to IHS."
ETCentric will have more on these products and other TV announcements during our live coverage of CES, January 6-10.
Topics:
4K
,
Aspect
,
Backlight
,
Body
,
CEA
,
CES
,
CinemaScope
,
Color
,
Cost
,
Crystal
,
Curved
,
Discount
,
Forecast
,
HD
,
IHS
,
Korea
,
Las Vegas
,
LCD
,
LED
,
LG
,
Liquid
,
Manufacture
,
Marketing
,
Model
,
OLED
,
Organic
,
Predict
,
Price
,
Quadmatic
,
Ratio
,
Resolution
,
Samsung
,
Set
,
Sony
,
Surface
,
Television
,
TFT
,
TV
,
UHD
,
Ultra