The algorithm powering TikTok's vaunted For You page is reportedly getting help from human collaborators. Although the personalized feed was said to be based on user interests and selections, "employees regularly engage in 'heating,' a manual push that ensures specific videos 'achieve a certain number of video views,' according to six sources and documents reviewed by Forbes." What's more, while the algorithm does have a say in what goes viral, staff at TikTok and ByteDance are also hand-picking specific videos to give preferential treatment, saturating their distribution throughout the user base.
"The heating feature refers to boosting videos into the For You feed through operation intervention to achieve a certain number of video views," Forbes writes, citing an internal TikTok document called the MINT Heating Playbook. Views of heated videos comprise between 1-2 percent of total daily views, "which can have a significant impact on overall core metrics," according to Forbes.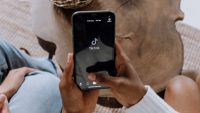 A TikTok spokesman told the outlet that "only a few people, based in the U.S., have the ability to approve content for promotion in the U.S., and that content makes up approximately .002 percent of videos in For You feeds."
While many social platforms employ use similar tactics, they usually disclose such manipulation by labeling affected material. For instance, "Google, Meta, and TikTok itself" have previously boosted public interest COVID-19 messaging as the result of partnerships with public health groups, or shared information about election polling sites for voters, "making clear disclosures about how and why they chose to promote these messages," Forbes writes.
TikTok often uses heating "to court influencers and brands, enticing them into partnerships by inflating their videos' view count," Forbes reports, suggesting this sort of undisclosed heating "has potentially benefitted some influencers and brands — those with whom TikTok has sought business relationships — at the expense of others with whom it has not."
Insider Intelligence principal analyst Jasmine Enberg, who covers TikTok, Instagram and others, says "up-and-coming creators have flocked to the platform in hopes of achieving 'TikTok fame,' which relies on the belief any piece of well-timed content can go viral. The knowledge that TikTok can handpick content to promote puts a major wrench in that story."
Alienating creators is not something TikTok can afford to do, Enberg adds. Particularly now, when the platform is the subject of Congressional ire and scrutiny by the Committee on Foreign Investment in the United States (CFIUS) due to concerns over manipulating users and compromising their personal data.
Forbes says TikTok employees have abused the function, heating their own videos as well as those created by spouses, writing that "at least sometimes, videos on the For You page aren't there because TikTok thinks you'll like them; instead, they're there because TikTok wants a particular brand or creator to get more views."
Topics:
Algorithm
,
Brand
,
ByteDance
,
CFIUS
,
Congress
,
COVID-19
,
Creator
,
Election
,
For You
,
Google
,
Heating
,
Influencer
,
Instagram
,
Jasmine Enberg
,
Manipulation
,
Measurement
,
Meta Platforms
,
Metrics
,
Personalized Content
,
Public Interest
,
Security
,
Social Media
,
TikTok
,
User Data
,
Video
,
Viral Video