At AMIA's The Reel Thing conference in Hollywood, film director/producer Marcus Dillistone, Academy of Motion Picture Arts & Sciences managing director Andy Maltz and Academy Film Archive director Michael Pogorzelski presented a case study of an ACES reformatting and archiving project, with Dillistone's 1999 short film "The Troop." The topic is the King's Troop Royal Horse Artillery, and the film had a royal premiere at BAFTA, with film industry and military guests as well as a British princess in attendance.
Now, 20 years later, Dillistone realized that he needed a digital version when he found most movie theaters had gone almost entirely to digital projection. What he found was "lots of dilemmas in the digital world related to resolution, bit depths" and many other issues.
To embark on the digital version, he brought in cinematographer/DI pioneer Geoff Boyle who acted as a deputy for the film's cinematographer Alex Thomson, BSC.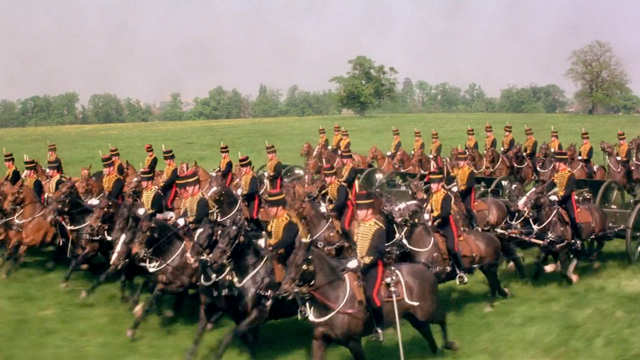 "Geoff suggested I speak to the Academy of Motion Pictures Arts & Sciences and look at using ACES for the restoration," said Dillistone. "And here we are today."
Maltz, who gave an update on ACES, noting that the upcoming ACES Next will "enhance and extend ACES 1.0, said the AMPAS Science and Technology Council was looking to do an implementation proof. "Archiving standards is a prime motivation for the ACES project, and ACES-based archiving standards are nearing completion," he said. "We also wanted to explore issues in HDR remastering. So it was a great opportunity to be part of the reformatting and restoration of 'The Troop.'"
"It was also a great piece of content, and we had a willing filmmaker," he added. "The bonus is there is a great story behind the making of the film." In prepping "The Troop" for the remastering, Dillistone says he "realized the scan would be absolutely pivotal."
"If we got that right, we would be in the digital domain," he said. First, the negative was inspected, repaired and cleaned, and then scanned to ARRI 4K 16-bit ADX for ACES. "We did a best light screening and appraisal and we were pleased with what we had," he said.
Boyle headed back home to Holland with 2K proxy files in 16-bit ADX. "We set up a way of working remotely, with Geoff in Holland and us in Hollywood," said Dillistone. "We did offline viewing and appraisal with EIZO CG318 4K-resolution monitors, which offer 98 percent DCI-P3 color space, while being self-calibrating and networkable. We also had a Blackmagic UltraStudio Extreme 4K for the I/O workstation, a Blackmagic Micro Panel for a control surface, and DaVinci Resolve Studio for grading. It was surprisingly good."
The first grade was the Cinema Grade DCI-P3 master, referenced to the print, followed by an output transform to Rec709 and another to HDR. There were some surprises. In one scene in SDR, the sky didn't offer much detail, but the HDR grade showed a blue sky with clearly visible clouds. Last, the team did some CGI and VFX fixes, graded the inserts and married the audio. Both the digital and film versions were archived.
Topics:
4K
,
Academy Film Archive
,
ACES
,
ACES Next
,
AFA
,
Alex Thomson
,
AMIA
,
AMPAS
,
Andy Maltz
,
Archiving
,
BAFTA
,
Blackmagic
,
CGI
,
DaVinci Resolve
,
DCI-P3
,
Digital Projection
,
Documentary
,
EIZO
,
Geoff Boyle
,
Glory Film Co.
,
HDR
,
Hollywood
,
Marcus Dillistone
,
Michael Pogorzelski
,
Movie
,
Restoration
,
The Reel Thing
,
The Troop
,
The Troop Redux