Tencent has invested $297 million in Guillemot Brothers Limited, the company that owns Ubisoft, maker of "Assassin's Creed." The Chinese game giant already had a 4.5 percent stake in Ubisoft that it can now increase to 9.99 percent. Tencent gains a 49.9 percent stake with 5 percent voting rights in the parent company. Shares of Ubisoft fell 17 percent last week when it became apparent there was no takeover in the offing. The deal is part of a strategy "to develop immersive game experiences, and to bring some of Ubisoft's most well-known AAA franchises to mobile," said Tencent president and CEO Martin Lau.
"The expansion of the concert with Tencent further reinforces Ubisoft's core shareholding around its founders and provides the company with the stability essential for its long-term development," added Yves Guillemot, CEO and co-founder of Ubisoft in a news announcement.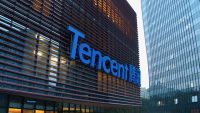 Ubisoft's Paris-based leadership remains unchanged, with the Guillemot family maintaining exclusive control over Guillemot Brothers Limited. Ubisoft also has offices in San Francisco. Tencent does not get a board seat as a result of the transaction, which consists of "200 million euros in shares and 100 million euros in capital," according to The Washington Post.
As part of the deal, Tencent will not be able to sell its direct stake in Ubisoft for five years "and will not be able to increase its stake in Ubisoft beyond 9.99 percent for a period of eight years," writes CNBC, which says "that effectively rules out a complete takeover."
The Guillemot brothers — who founded Ubisoft in 1986 and today own roughly 15 percent of the firm — "have fought hard to keep the company independent and protected from a takeover," writes CNBC.
"'What this transaction does appear to signal is that any full sale of Ubisoft to a strategic or financial buyer is very unlikely. In our view, this should be seen as a net negative for shares (though not for the company itself),' analysts at Cowen said in a note Tuesday," according to CNBC.
Tencent, based in Shenzhen, China, is one of the largest entertainment companies in the world, with a market cap of $377 billion. The firm has tentacles in a wide variety of global game publishers. In addition to wholly owning "League of Legends" creator Riot Games, Tencent has a 40 percent stake in "Fortnite" creator Epic Games and an undisclosed investment in Roblox, according to Polygon.
"A week before the Ubisoft announcement, Tencent acquired a 16.25 percent stake in FromSoftware, the award-winning Japanese developer of 'Elden Ring' and the 'Dark Souls' series," WaPo reports, noting that "Guillemot assured his employees Tuesday that Tencent's increased stake in Ubisoft would not influence how the company is run."
"Tencent's investment continues a flurry of deals in the video games space this year, particularly from Asian firms, that began with Microsoft's proposed $68.7 billion acquisition of Activision Blizzard," writes CNBC.
Topics:
Activision Blizzard
,
Assassin's Creed
,
China
,
Cowen
,
Dark Souls
,
Elden Ring
,
Epic Games
,
Fortnite
,
FromSoftware
,
Gaming
,
Guillemot Brothers
,
Japan
,
League of Legends
,
Martin Lau
,
Microsoft
,
Mobile
,
Paris
,
Riot Games
,
Roblox
,
San Francisco
,
Shenzhen
,
Takeover
,
Tencent
,
Ubisoft
,
Video Games
,
Yves Guillemot