LG Electronics has launched a non-fungible token platform, LG Art Lab, available in the U.S. on the company's smart TVs running webOS 5.0 or later. Accessible from the home screen, the LG Art Lab lets users buy, sell and enjoy digital artwork transacting as NFTs. Based on the enterprise-grade public Hedera network, the LG Art Lab uses onscreen QR codes and works via Wallypto, LG's new cryptocurrency wallet for smartphones. The platform includes a discovery feature, LG Art Lab Drops, which profiles artists, previews upcoming works and includes a real-time Live Drops countdown clock to keep purchases on track.
To purchase an NFT, "LG says you can scan the QR code that appears on the screen, and then open the Wallypto app on your phone to complete the transaction," explains The Verge. "Before you do that, you'll need to purchase USD Coin (USDC), a stablecoin that's supposed to be pegged to the U.S. dollar."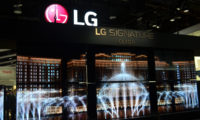 Once purchased, an NFT can be traded on LG Art Lab Marketplace, where users can view their transaction history or peruse their purchases in My Collection. "When displayed on the cinematic, 16:9 aspect ratio screens of LG's TVs, NFTs come fully to life – especially on the company's OLED TVs, which leverage self-lit pixels to deliver infinite contrast, inky blacks and exceptional color accuracy," the company said an announcement.
"Unlike the Ethereum or Solana networks many popular NFT marketplaces support, the Hedera network doesn't operate on the blockchain — it uses a blockchain alternative, called hashgraph," writes The Verge, adding that proponents of the system say it's faster, cheaper and more energy-efficient than blockchain competitors.
Still, "the choice of Hedera is not an obvious one for an NFT integration," writes CoinDesk, pointing out that the NFT trading scene on Hedera "is not nearly as popular as on better-known blockchains such as Ethereum, where most so-called 'blue chips' live."
By way of example, CoinDesk notes that "Ethereum's top NFT marketplace OpenSea has processed $333 million in NFT trades in the past 30 days, according to DappRadar. By contrast, one of the leading NFT marketplaces on Hedera, called Zuse, has processed $1.22 million in trades over the same period."
According to TechCrunch, "the partnership between Hedera and LG Electronics was initiated in 2020 when LG joined the Hedera governing council that includes Google, IBM, Deutsche Telekom and the Indian Institute of Technology."
Topics:
Blockchain
,
Crypto Wallet
,
Cryptocurrency
,
DappRadar
,
Deutsche Telekom
,
Digital Artwork
,
Discovery
,
Ethereum
,
Google
,
Hashgraph
,
Hedera
,
IBM
,
Indian Institute of Technology
,
LG Art Lab
,
LG Electronics
,
Marketplace
,
NFT
,
OLED
,
OpenSea
,
QR Codes
,
Smart TVs
,
Solana
,
Stablecoin
,
USD Coin
,
USDC
,
Wallypto
,
webOS
,
Zuse