Private equity firm Sycamore Partners has agreed to purchase office supply retail chain Staples for $6.9 billion. Staples is another retailer that has been impacted by the growing success of Amazon and other online shopping services. Amazon, for example, has become a major competitor for corporate customers, while Staples' overall sales have declined 6.1 percent over the past five years, according to ABC News. In 2015, Staples attempted to merge with Office Depot in an effort to stay competitive online, but last year the deal was blocked by a federal judge in response to a lawsuit initiated by the Federal Trade Commission.
"Sycamore is acquiring a company that is squarely in decline," reports The New York Times. "Sales and gross profits at Staples have fallen for each of the last four full years. At the same time, the company has been shrinking the number of stores it operates."
New York-based Sycamore specializes in retailers; it now owns brands such as Coldwater Creek, Hot Topic, The Limited, Nine West and Talbots.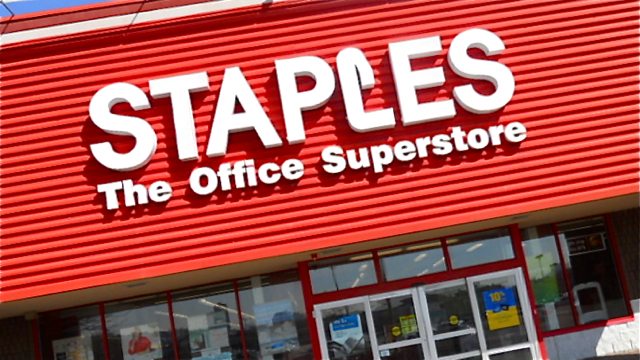 "Sycamore is known for seeking retail brands and trying to turn them around," Bloomberg explains. "But Staples has been striving to shed its retail image. By 2020, the company expects to get only 20 percent of revenue from retail locations, down from about 40 percent now. The rest will be generated by delivery and online sales."
In its most recent annual report, Massachusetts-based Staples identified the increased competition it faces from wholesalers, local stationery stores and, perhaps most significantly, e-commerce services.
"We also compete with online retailers such as Amazon.com, mass merchants such as Walmart and Target, warehouse clubs such as Costco, computer and electronics retail stores such as Best Buy," the company explained in the report.
Despite declining sales and the company's plans to shutter even more physical stores in the U.S., Staples still sells a significant volume of office products, has a strong iconic brand and holds very little debt.
"For a company that is closely associated with big-box stores, Staples sells a minority of its goods at brick-and-mortar locations," notes NYT. "Some $10.6 billion of its sales are delivered, compared with about $6.6 billion sold in stores. That suggests that even as stores close and consumers shop online, Staples has a large and potentially profitable opportunity."
Regardless, Sycamore will now have to decide what's next for Staples. Some are speculating that a potential merger with Office Depot would meet less resistance from the Trump administration than it did from the Obama White House.
The firm could also have difficulty returning the brand to public markets. "Instead, Sycamore may try to sell Staples to a different private equity firm, or a strategic buyer like Walmart," suggests NYT.
Topics:
Amazon
,
Best Buy
,
Brick-and-Mortar
,
Coldwater Creek
,
Costco
,
E-Commerce
,
FTC
,
Hot Topic
,
Massachusetts
,
New York
,
Nine West
,
Office Depot
,
Office Supplies
,
Online Shopping
,
Retail
,
Ron Sargent
,
Shira Goodman
,
Staples
,
Stefan Kaluzny
,
Sycamore Partners
,
Talbots
,
Target
,
The Limited
,
Tom Stemberg
,
Walmart
,
Warehouse Clubs
,
Wholesale