Netflix exceeded Wall Street expectations in U.S. streaming-subscriber growth for the first quarter and is now nearly on par with HBO in regards to number of paying customers. According to SNL Kagan, HBO had 28.7 million paid subscribers in the U.S. at the end of 2012. Netflix had 27.9 million paid streaming subscribers at the end of March, but total subscriptions reached 29.2 million when including free promotions.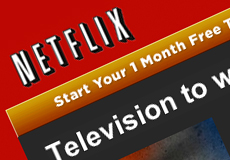 "Shares of Netflix soared 24 percent in after-hours trading," reports the Wall Street Journal. "The company also reported a small profit compared with a loss a year earlier, as well as a strong reception for 'House of Cards,' its high-profile original series which debuted in the quarter."
However, analysts note that high acquisition costs and a move into original programming could prove to be a challenge for Netflix. The company is expected to spend about $100 million on "House of Cards," for example, including a second season.
"Some analysts had said there was a risk that users could sign up for Netflix's free monthly trial, watch 'House of Cards,' and then cancel their services," explains WSJ. "But the company said fewer than 8,000 people engaged in that 'free-trial gaming' out of the millions of free trials in the quarter."
Netflix hopes that its original content will continue to distinguish it from online competitors such as Hulu and Amazon, as well as premium cable channels HBO and Showtime. It launched supernatural thriller "Hemlock Grove" last week and will release a new season of cult comedy "Arrested Development" in May.
According to Netflix CEO Reed Hastings, however, recent aggressive bidding for programming by Amazon and Hulu has led to an increase in the cost of content licensing deals.
"In its letter to shareholders, Netflix said it is getting more selective in the shows it licenses from studios," notes the article. "A more selective licensing strategy could affect major entertainment companies, which in the past couple of years have enjoyed extra revenue provided by Netflix's licensing deals."
Topics:
Amazon
,
Cable
,
Distribution
,
HBO
,
Hemlock Grove
,
House of Cards
,
Hulu
,
Netflix
,
Pay TV
,
Programming
,
Showtime
,
Streaming
,
Television
,
TV
,
Video