Spotify is no longer just about music streaming. The service — facing new pressure from emerging rivals — is adding podcasts, video clips, original music and video series, a better recommendation engine, and a special feature for runners. The new videos and podcasts will come from media partners like ABC, BBC, Comedy Central, ESPN and Maker Studios. Spotify has also developed some of its own original content, including music tracks that will change tempo based on how fast the user is running.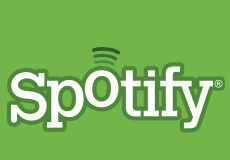 The expansion to video puts Spotify up against tech giants like Facebook and YouTube as many media companies grow their online video presence. Spotify has partnered with both traditional broadcasters, cable channels, and even YouTube multichannel networks to build its library of video content. These videos could be news segments, episodes of TV shows, or short entertainment videos.
Some of this new content may even be Spotify Originals. Amy Poehler produced a short series called "Dance Move of the Day" for Spotify. Artists like Icona Pop, Jungle, and Tyler the Creator are also presenting some original radio shows.
According to The Wall Street Journal, "The video foray coincides with talks in which Spotify seeks to raise more than $400 million from investors in a round of funding that would value the company at more than $8.4 billion." The company still has not turned a profit based on its $10 per month subscription service and it will face increasing competition from Apple's relaunched version of Beats Music and Jay Z's artist-backed Tidal.
Spotify has also launched an entire section of its app for runners. Spotify Running includes six original tracks that will match the tempo of your running speed based on data from a user's smartphone sensors. If runners want to listen to some more recognizable tunes, the app can create a playlist of songs that have the appropriate beats per minute for the user's running pace, reports Wired.
The update also has an improved recommendation system. The "Now" homepage will provide Spotify playlists, your playlists, or podcasts based on the time of day. Over time, the recommendation engine will learn a user's listening habits and suggest songs and playlists that fit the user's taste and mood. The new recommendations, along with Spotify Running, will be available on the free version of Spotify.
Topics:
ABC
,
Amy Poehler
,
Apple
,
BBC
,
Beats Music
,
Comedy Central
,
ESPN
,
Facebook
,
Icona Pop
,
Jay-Z
,
Jungle
,
Maker Studios
,
MCN
,
Media Partners
,
Music
,
Online Video
,
Original Content
,
Playlists
,
Podcasts
,
Radio Shows
,
Recommendation Engine
,
Spotify
,
Streaming
,
Tidal
,
TV Shows
,
Tyler The Creator
,
Video Clips
,
YouTube