Oculus is getting ready for the release of its long-awaited Oculus Rift VR headset with recommendations for PC specs and a special event on June 11. The company recommends a powerful GPU to handle rendering. The Rift will initially require a desktop PC running Windows 7 SP1 or newer, 2 USB 3.0 ports, and HDMI 1.3 video output supporting a 297MHz clock through a direct output architecture. Meanwhile, Oculus has halted work on Mac and Linux support while it readies the PC software for launch.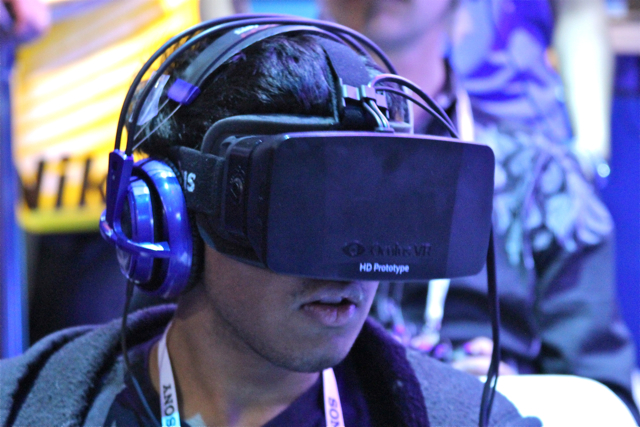 The company also recommends the Nvidia GTX 970 or AMD 290 graphics card, an Intel i5-4590 processor, and 8GB or more of RAM.
Oculus Chief Architect Atman Binstock wrote a blog post explaining some of these requirements. VR relies heavily on GPU performance to give users an immersive experience. The Rift needs to be able to render about 400 million shaded pixels per second. "This means that by raw rendering costs alone, a VR game will require approximately 3x the GPU power of 1080p rendering," according to Binstock.
The only hardware with those kinds of specs are desktop PCs, according to TechCrunch. Oculus paused software development for Mac and Linux, but hopes to continue working on that support in the future. The company is slated to begin pre-orders later this year, and the first headsets will be shipped in the first half of 2016.
The press is hoping for more details at a special Oculus event on June 11. The public still has yet to see a live demo of the final version of the VR headset, notes TechCrunch in a related post.
Topics:
1080p
,
AMD
,
Atman Binstock
,
Computing Power
,
Desktop PC
,
Developer
,
GPU
,
Graphics
,
HDMI
,
HDMI Output
,
Headset
,
HMD
,
Immersive
,
Intel i5
,
Linux
,
Live Demo
,
Mac
,
Nvidia
,
Oculus
,
Oculus Rift
,
PC
,
Rendering
,
USB Ports
,
Virtual Reality
,
VR Headset
,
Windows 7