Subscription music service Spotify introduced a new family plan that will allow subscribers to add up to four more Spotify accounts for half-price. Under the new plan, Spotify would charge $10 for the primary account holder and $5 for each additional account holder. Other streaming music services are also trying to lower prices as CD and download sales continue to plummet. Apple, which owns the Beats Music streaming service, is negotiating with record labels to cut prices.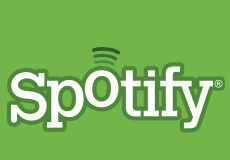 Spotify's family discount will be available globally within the next couple of weeks. More than 10 milllion people are already paying for subscriptions to have unlimited online access to 20 million songs ad-free on both desktops and mobile devices. Including the non-subscription holders, Spotify has 40 million users.
Some of these Spotify account holders may be using some of the pre-existing deals. Spotify started a half-price discount for college students this year. According to The New York Times, Sprint also gives some of its customers Spotify discounts for six months free and $8 a month for 18 months after that.
The new family discount may help attract more people to the service, but Spotify and Apple realize that music streaming subscriptions base prices need to be much cheaper if the companies want to grow significantly. Re/code reports, "While $10 a month is now the industry standard, that's much, much more than people spent on music during the industry's peak."
Apple has been renegotiating its licensing terms with record labels in an effort to sell Beats subscriptions at half of the $10 monthly rate. The thinking is that the most prolific iTunes buyers purchase roughly $60 per year on downloaded music, or $5 per month. The company believes that the people who would adopt the streaming model would make the same amount of revenue — or more — for the record company.