Businesses curious as to how 5G may impact operations would do well to look to South Korea, where as of November, 5G subscriptions reached 28 percent or about 20.19 million of total mobile subscriptions, according to RCR Wireless. The country not only has a substantial 5G base, but some of the fastest. Autonomous vehicles are already relying on 5G there, as are smart factories, and the proclivity consumers have shown for new technologies prompts experts to conclude the nation may lead the way in areas such as augmented reality, virtual reality and the metaverse.
Globally, the estimated 5G penetration was only 8 percent in 2021, according to the GSMA's 2022 Mobile Economy report. The number is expected to jump to 25 percent by 2025 as a result of "economic recovery from the pandemic, rising 5G handset sales, network coverage expansions, and overall marketing efforts," PC Magazine reports.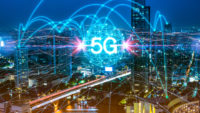 By that time, South Korea is projected to have 41 million connections, accounting for roughly 65 percent of the country's mobile subscriptions, according to global investment firm Eastspring.
"South Korea was the world's first country to roll out commercial 5G networks, in 2019, and currently has the highest proportion of the population using 5G — roughly 36 percent, compared with 21 percent in China and 16.5 percent in the U.S.," The Wall Street Journal writes, citing Omdia research.
"As of 2021, South Korea also ranked No. 1 in 5G download speeds globally, four times faster than Taiwan and around 10 times faster than the U.S., according to Internet-speed analysis firm Speedcheck," WSJ adds.
All of this makes it a revealing case-study market. Consumers there can already hail rides in commercially available self-driving cars offerd by companies like Seoul-based 42dot and SWM, albeit with "a 'safety driver' on board who mans the wheel when the cars pull over to pick up and drop off passengers, and in designated children's safety zones, where cars must be hand-steered by law," WSJ writes.
The pace at which telecom technologies advance in South Korea "effectively pushes homegrown companies in the 5G network ecosystem to stay at the forefront of technology development," says WSJ, quoting Samsung Electronics network business EVP and head of global sales and marketing Woojune Kim: "It forces us to develop the next-generation equipment much more quickly. Korea is a place where we can test out the latest thing much faster than in other countries."
Omdia research manager Ramona Zhao tells WSJ that South Korea's "comprehensive lead in the 5G space" gives it an edge in the development and implementation of VR, AR and the metaverse.
But according to PCMag, by 2025 North America will have 272 million 5G connections — or about 63 percent of the market — and will be second only to "developed Asia Pacific" in terms of penetration, trailing by a mere 1 percent to that region's 195 million subscribers. Third-placed "Greater China," on the other hand, will lead by far in terms of sheer numbers, with a projected 892 million 5G users by 2025, putting it at 52 percent.
9to5Mac provides a look at the fastest 5G in the U.S., with Illinois ranked No. 1.
Related:
What's Holding Back 5G, The Wall Street Journal, 3/13/22
China Leads the Way with Private 5G Networks at Industrial Facilities, The Wall Street Journal, 3/13/22
5G Expands to More-Affordable Phones as Chip Prices Fall, The Wall Street Journal, 3/11/22
Apple Unveils First Budget 5G iPhone, CNN, 3/8/22
T-Mobile Introduces a Credit Check-Free Version of Its 5G Home Internet, The Verge, 3/10/22
AT&T Undercuts T-Mobile and Verizon with Unusual New 5G Value Plus Plan, PhoneArena, 3/10/22
Topics:
42dot
,
5G
,
Asia-Pacific
,
Augmented Reality
,
Autonomous Vehicle
,
China
,
COVID-19
,
Eastspring
,
GSMA
,
Illinois
,
Metaverse
,
Mobile Networks
,
North America
,
Omdia
,
Ramona Zhao
,
Samsung Electronics
,
Self-Driving Car
,
Seoul
,
Smart Factories
,
South Korea
,
SWM
,
Taiwan
,
Telecom
,
United States
,
Virtual Reality
,
Woojune Kim