Announced in 2019, the Magic Leap 2 augmented reality headsets are now being demoed for reviewers, with a commercial launch set for later this year. In 2020 the company shelved consumer plans to focus on enterprise clients in areas like healthcare, manufacturing and defense, where it will compete against Microsoft's HoloLens. Offering a significantly improved field of view compared to the original 2018 Magic Leap, the new Magic Leap 2 is also lighter and more powerful than its predecessor. The new goggles are wired to a disc-shaped processor that must be carried or clipped on for mobility.
"No longer aiming the product at developers and other early adopters who it had hoped would come up with compelling uses for it (and then, perhaps, drive consumers to pick it up)," Magic Leap is "focusing on a narrow range of companies that might find its AR offering more useful and also be less intimidated by the price tag, which has yet to be announced but will continue to run more than $2,000 per headset," CNN reports.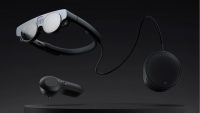 "The Magic Leap 2 weighs 248 grams [about half-a-pound] to the original's 316 grams, which was already svelte compared to the 566-gram Microsoft HoloLens 2," The Verge writes, noting that the sleek package and optional over-the-head strap result in a comfortable fit, "albeit for a roughly 30-minute demo, which is far from the full workday Magic Leap says it's designed for."
The company switched out the electromagnetic controller tracking for optical tracking (due to what The Verge says were "problems using magnetic sensors around some industrial equipment"). "The remote isn't built to give you full-fledged virtual hands the way many VR controllers do, and I didn't get to try any complex object manipulation, but it certainly feels functional enough for simple point-and-click interfaces," The Verge reviewer assesses.
The Magic Leap 2 offers a 70-degree field of view, "compared to the original's 50 degrees," VentureBeat notes. And "the Magic Leap 2's holograms look great by current AR standards," according to The Verge, explaining "the images are still a bit transparent, but they're crisp and vivid, and text is easy to read. A new feature can also make them stand out against the real world by dimming parts of your vision to near-darkness."
Dynamic dimming "is a big improvement over the first headset, which could only be used indoors," VentureBeat says, reporting that while "Magic Leap 2 can reach up to 2,000 nits of brightness, this still isn't enough to compete with direct sunlight. And making the display even brighter would have required consuming more power, in a bigger form factor."
The headset is driven by an AMD quad-core Zen 2 processor that VentureBeat says makes it more than three times as powerful as the Magic Leap 1. "You can think of it more as a PC on your eyes," said Magic Leap CEO Peggy Johnson. "It's got that kind of power versus say a smartphone chip."