Intel's talks to purchase media content for a new TV service are moving forward, according to people familiar with the matter. Although Intel has yet to close any programming deals, the chip giant is reportedly offering to pay as much as 75 percent more for content than traditional cable rates. Sources indicate that Intel has moved substantially on subscriber fees it is willing to pay and has also suggested preventing viewers from skipping commercials for a show's first run.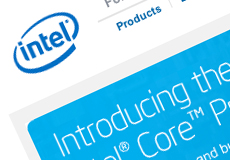 "CBS, News Corp. and Viacom have reached agreements with Intel on certain details over how their content would be distributed on the service the chipmaker plans to begin later this year," reports Reuters. "Comcast's NBCUniversal is continuing its talks with Intel but its negotiations are not as advanced as other companies, said another source familiar with the matter."
"Media companies typically give better prices to operators with more viewers, such as large cable companies, and charge higher prices to smaller or newer entrants," notes the article. "Since Intel's TV service has yet to start, and therefore has no viewers, it can expect to pay a premium, all the sources said."
In February, Intel announced its plans to compete with Amazon, Apple and Google by launching a set-top box and service delivering live and on-demand programming. The company plans to offer smaller content bundles than those offered by most cable and satellite operators.
"Having missed the mobile revolution and fallen behind in making chips for smartphones and tablets, Intel senior executives are eager to be on the leading edge of future consumer technologies," suggests the article. "Intel sees the living room as a potential battleground, where its advanced chips, used in set-top boxes and to power 'cloud' data centers, can give it an advantage and help set the standard for other home entertainment products."
Topics:
Ads
,
Amazon
,
Apple
,
Cable
,
CBS
,
Chips
,
Cloud
,
Commercials
,
Google
,
Home Entertainment
,
Intel
,
Mobile
,
NBC
,
News Corp
,
Satellite
,
Smartphone
,
STB
,
Subscribe
,
Subscription
,
Tablet
,
Television
,
TV
,
Viacom
,
Video
,
VOD