Sony's Crystal LED displays are designed to enable realistic backgrounds for virtual production. Now, after two years of research and development, Sony Electronics has unveiled its first line of Crystal LED Verona wall displays, purpose-built to meet the needs of virtual production. The result of a tight feedback loop between Hollywood end users and Sony engineers in Tokyo, Verona aimed to solve what were identified as the two biggest issues with virtual production backgrounds: a need for "deeper black-level expression" and "reduced contrast loss caused by light from adjacent LED panels and studio lighting equipment."
The result is a highly configurable display component that "significantly reduces the difference in contrast between the image projected on the LED display and the actor(s) performing in front of it on set — blending virtual and real in a natural way, reducing time and cost required for post-shooting adjustments," Sony explains in the Verona announcement.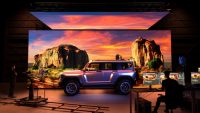 Brompton Technology and Megapixel VR provide the processing power. Brompton's Tessera SX40 processor and the Helios platform from Megapixel will power 1.5 or 2.3 pixel models for a total of four SKUs.
The high-powered processors enable a 7,680Hz refresh rate that eliminates visible scan lines when shooting from a camera, according to Sony. Max luminance is 1,500 nits. The Verona has "a wide color gamut covering more than 97 percent of DCI-P3, thereby increasing the sense of realism of shooting virtual locations," writes TV Technology.
The result is a more flexible wall. "While there have been some early big splashes with series shot on very, very large volumes, in the last 18 months or so we've seen that virtual production has moved beyond that," Sony Electronics Senior Director of Cinematic Production Solutions Kevin O'Connor told reporters.
"Now you're starting to see smaller, more mobile walls brought in for a shot here, or a shot there, and the need for a wall that has a higher resolution and better picture quality because the camera needs to get closer to the action and closer to the screen without seeing it," he explained.
The Verona's aim is a "frictionless" marriage of the real and virtual realms, one that enables nuanced contrast and true blacks. Key to Verona's contrast range is what Sony says is a new anti-reflection surface technology, "able to deliver deeper black-level expression while greatly reducing contrast loss caused by light from adjacent LED panels and studio lighting equipment."
"You're getting a blacker panel that also scatters more light," said Jason Metcalfe, Sony Imaging Products and Solutions America senior engineer. "So onset elements, practical lighting, doesn't end up reflected on the display, but all of your ambient lighting contributes to your display contrast."
Sony Professional Products VP Rich Ventura emphasized Verona as part of the company's ecosystem of virtual production solutions that includes the Venice 2 digital cinema camera, Rialto 2 camera extension system, Crystal LED displays and a VP tool set (which lets you operate a Venice camera in a virtual environment to map out color-accurate shots).
"Virtual production isn't about a wall, it isn't about a camera, it's about a workflow," said Ventura, urging the industry to take advantage of the company's new Digital Media Production Center, which opened in Los Angeles this summer.
"One of our tenets as a company is to get closer to the creative," said O'Connor, citing valued relationships with the American Society of Cinematographers, the Society of Camera Operators and the University of Southern California.
"When we came out with our new camera — the FX30, we brought it to USC's School of Cinematic Arts well before it was introduced to get feedback" from students and faculty. Epic Games and Sony Pictures are listed as development partners on Sony's Verona preview material.
The new displays will get a staggered release, with the first units shipping in November, and general availability on all versions in early 2024. Sony's official demo video and specs are available on the Sony Professional Products site.