As creators embrace artificial intelligence to juice creativity, TikTok is launching a tool that helps them label their AI-generated content while also beginning to test "ways to label AI-generated content automatically." "AI enables incredible creative opportunities, but can potentially confuse or mislead viewers," TikTok said in announcing labels that can apply to "any content that has been completely generated or significantly edited by AI," including video, photographs, music and more. The platform also touted a policy that "requires people to label AI-generated content that contains realistic images, audio or video, in order to help viewers contextualize."
That policy, introduced in March, also allows TikTok "to take down realistic AI images that aren't disclosed," TechCrunch writes. The new labeling offers an assist with compliance.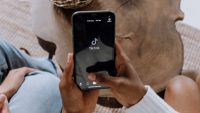 "However, outside of the extreme case of using AI to intentionally mislead users, some AI-generated content can toe the line between seeming real or fake," TechCrunch ruminates. "In this gray area, more transparency is generally appreciated by end users so they know whether or not the content they're viewing has been heavily edited or created with AI."
TikTok consulted industry experts, such as MIT's Dr. David Rand and TikTok's Safety Advisory Council members to develop the new AI labels, exploring user responses to different types of labeling.
"To that end, TikTok landed on the term 'AI-generated' being widely understood across demographic groups," TechCrunch says, explaining the social app will add educational videos "and other media literacy resources" to its knowledge base over the coming weeks to help users ingest the policy and approach.
"This week, we will begin testing an 'AI-generated' label that we eventually plan to apply automatically to content that we detect was edited or created with AI," TikTok explained in an announcement, adding that "to drive more clarity around AI-powered TikTok products, we are also renaming TikTok AI effects to explicitly include 'AI' in their name and corresponding effects label, and updated our guidelines for Effect House creators to do the same."
But "when you place the onus on consumers to label their content, mistakes are gonna happen," Engadget posits, explaining that TikTok is "developing its own algorithm that will label AI-generated posts automatically, though it hasn't announced when these in-house tools will launch."
The ByteDance-owned platform has also "committed itself to abiding by the Partnership on AI Responsible Practices for Synthetic Media, a list of recommendations for increased transparency involving artificial intelligence" and also plans to "partner with the nonprofit Digital Moment to host roundtables to discuss the advancement of AI with 'young community members.'"
Topics:
Artificial Intelligence
,
Audio
,
ByteDance
,
Creator
,
David Rand
,
Digital Moment
,
Filter
,
Generative AI
,
Label
,
Media Literacy
,
MIT
,
Music
,
PAI
,
Partnership on AI
,
Photograph
,
Photorealistic
,
Responsible AI
,
Safety Advisory Council
,
Social Media
,
Synthetic Media
,
TikTok
,
TikTok Effect House
,
Transparency
,
Video