Sony plans to debut a high-end console, PlayStation 4 Pro (formerly "Neo"). Set to ship November 10 for $399, PlayStation 4 Pro will boast a faster processor, more storage, and 4K graphics. Sony will also release a more energy-efficient, 30 percent smaller PlayStation 4, to go on sale September 15 for $299. This console replaces the original PlayStation 4, which debuted November 2013 at $399. All PlayStation 4 consoles will be able to play back high dynamic range images, including, via a software update, older PlayStations.
The Wall Street Journal reports that MKM Partners analyst Eric Handler believes that, "PlayStation 4 Pro's fall release could give Sony an edge on the competition because of the approaching holiday season." Publishers of Activision's "Call of Duty" and Electronic Arts' "Battlefield" say upcoming versions of the games will support PlayStation 4 Pro's 4K-image quality.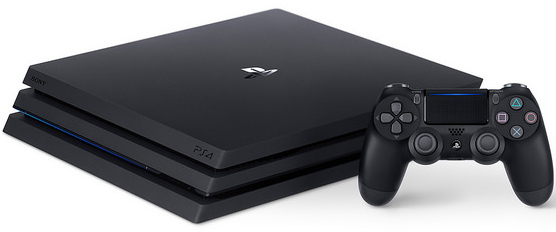 Sony, which has sold 43 million PlayStation 4 consoles, expects to sell 20 million more by spring. That number dwarfs the install base of Microsoft's Xbox One and Nintendo's Wii U. Both companies plan to release new higher-end consoles next year. Microsoft also unveiled Xbox One S, a smaller, less expensive version, in early August.
The New York Times adds that Microsoft will release its 4K console, codenamed Project Scorpio, during "next year's holiday season."
Handler also says that retailers will likely sell 4K TVs at discounted prices; NYT reports that, "the new PlayStation 4 Pro … is aimed at the growing segment of the television market buying so-called 4K high-definition television sets." Whereas the PlayStation 4 Pro will cost $400, research firm IHS Markit reports that, "the average price of 4K televisions was down 29 percent from a year earlier, to $877."
IHS Markit analyst Paul Gagnon adds that, "about 55 million 4K televisions will be sold worldwide this year," but only 3.5 million will be HDR-capable.
According to WSJ, "with the two new PlayStation 4 models, Sony is seeking to appeal to gamers craving the latest technology as well as fans looking to stay current on budget" … as well as "connect the new machines, like the original, to the company's $399 virtual-reality headset coming October 13."
The PlayStation 4 "represents a departure from tradition as Sony in the past has waited six to seven years before releasing new machines with major enhancements." All three console-makers plan to cut the time between releases, in recognition of new competition from "high-end personal computers, sophisticated smartphones and set-top boxes that can play games."
Sony PlayStation head Andrew House says that, "some players gravitate to robust gaming PCs while waiting for more powerful consoles to launch." By releasing the PlayStation 4 Pro this year, he says, "it's an opportunity to retain high-end players."
Sony will also earn revenue from "software sales and paid subscription services, such as PlayStation Plus, which provides access to online-gaming networks, exclusive demos and other perks to more than 20.8 million members."
Topics:
4K
,
4K TV
,
Activision
,
Andrew House
,
Battlefield
,
Call of Duty
,
Electronic Arts
,
Eric Handler
,
Game Console
,
Graphics
,
HDR
,
IHS Markit
,
Microsoft
,
MKM Partners
,
Nintendo
,
Paul Gagnon
,
PlayStation 4
,
PlayStation 4 Pro
,
PlayStation Neo
,
PlayStation Plus
,
Project Scorpio
,
Sony
,
Storage
,
Virtual Reality
,
VR Headset
,
Wii U
,
Xbox One