The South by Southwest (SXSW) technology, media and culture conference is taking place in Austin, Texas this week. From March 10-13, Sony invited guests to its WOW Studio, an interactive exhibit blending art and technology that featured displays and prototypes involving spatial audio, AI and robotics, tabletop projection, VR gaming, and more. Sony created interactive augmented reality without the fuss (or added cost) of goggles, glasses or other headgear, and SXSW attendees had the opportunity to participate in immersive hologram experiences.
How did they do it? By using a mix of smart sensors, depth detection, and motion tracking using a high-quality light source.
"The projectors create objects out of light that typically exist on a flat plane either in front of the projector or below on a tabletop. You can interact with these virtual objects using your hands because the projector's software is able to recognize and track your movements," reports The Verge.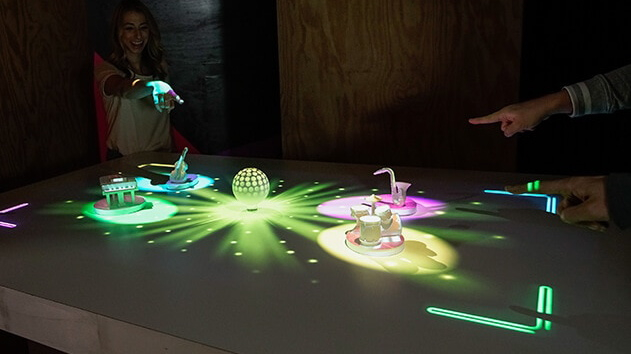 This is similar to a hologram in that it consists of light within a 3D space that "everyone can see and interact with." Additionally, it is AR that is approachable and accessible; it doesn't require any expensive gear or even a certain smartphone or software.
For the WOW Studio at SXSW, Sony created new and exclusive games, including a collaborative music-centric one that combines four projectors into a single system. Users direct spotlights on miniature instruments to play songs, working together to create cohesive music. Sony also developed a virtual hockey game for up to three people.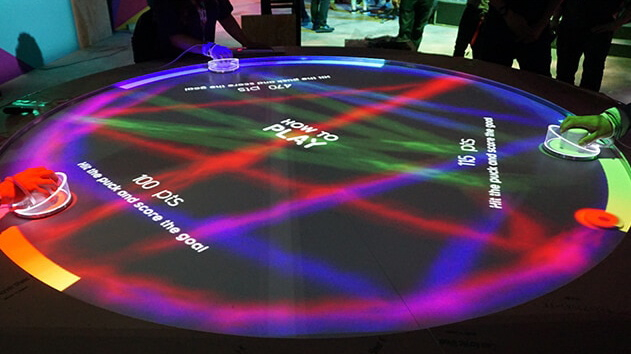 According to another article in The Verge, "The game features a physical hockey puck and three physical paddles around custom circular table. But the table is also making use of two of Sony's new IMX382 visual sensors, which can detect and track objects at 1,000 frames per second. One sensor sits above the table to track the puck, and another sits below to track players' paddles. An overhead projector meanwhile overlays the game interface and virtual pucks onto the surface of the table."
For $1,700, Sony sells a mini projector capable of running these sort of holograms and games, but it remains to be seen if this sort of technology is mass marketable.
According to The Verge, "…if Sony does find a way to commercialize this tech, it could pave the way for a unique and novel way to create immersive, collaborate AR experiences that can be deployed using everyday objects and on something as ordinary as a kitchen table."
Topics:
AR Glasses
,
AR Headset
,
Artificial Intelligence
,
Augmented Reality
,
Austin
,
Game
,
Hockey
,
Hologram
,
Image Sensors
,
Interactive
,
Motion Tracking
,
Movie
,
Music
,
Projector
,
Prototype
,
Robotics
,
Sensor
,
Smartphone
,
Soccer
,
Software
,
Sony
,
South by Southwest
,
Spatial Audio
,
SXSW
,
Texas
,
Virtual Reality
,
WOW Studio