Sony wants listeners to feel like they're having a live music experience even when listening to a recording. The company just announced plans to release its immersive listening technology, 360 Reality Audio, this fall. After debuting it at CES in Las Vegas, Sony is ready to move forward with the release, which will include around 1,000 tracks to start. Listeners will be able to access 360 Reality Audio songs through the Android and iOS apps of music streaming services such as Amazon Music HD, Deezer, nugs.net and Tidal. 
"Think of it like a step beyond stereo, you'd ideally be able to pick out where an instrument is being played on a sound field that completely surrounds you," explains Engadget.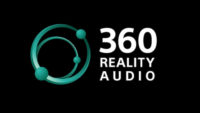 Engadget didn't get details regarding streaming quality, and therefore determines the release is "still far from a sure bet," especially considering such a small library of initially available tracks. Sony says more songs will follow via the Sony, Warner and Universal labels.
While Sony says listeners will be able to listen to 360 Reality Audio using any headphones, the company will offer a "customized experience with Sony's headphones, as its mobile app will be able to tune itself to your ears. You just have to take a picture of your ears, and Sony's cloud-based algorithms will send you a unique hearing pathway in under a minute," reports Engadget. 
In terms of maximizing 360 Reality Audio with speakers, listeners would need a multi-unit system and custom decoder in order to get the full effect. However, the audio files "will be compliant with the open MPEG-H 3D Audio standard," according to Engadget, and Sony has also partnered with Amazon and Google to deliver this content via Echo Studio and Chromecast. 
"The first time we heard a demo [of 360 Reality Audio], we were very impressed," said Tapas Roy, Amazon's head of engineering for the Echo Studio. "It was truly immersive, with music coming from every direction. And we realized it was replaying the intent that content creators had."
Topics:
360 Reality Audio
,
Algorithms
,
Amazon
,
Amazon Music HD
,
Android
,
Apps
,
Audio
,
CES
,
Chromecast
,
Cloud
,
Content Creators
,
Deezer
,
Echo Studio
,
Google
,
Headphones
,
iOS
,
Las Vegas
,
MPEG-H 3D Audio
,
Music
,
nugs.net
,
Sony
,
Speakers
,
Stereo
,
Streaming
,
Tapas Roy
,
Tidal
,
Universal Music Group
,
Warner Music Group