On Tuesday, TiVo officially entered the streaming content service arena with the release of its ad-supported streaming service, TiVo Plus. The new service appears to be the company's answer to The Roku Channel. TiVo Plus is available for free but only to those who own TiVo devices, and it's enabled by a partnership with XUMO, Jukin Media, and other publishers, allowing TiVo to offer a wide range of content. TiVo indicates that, in total, there will be thousands of movies and TV shows available to consumers. 
TiVo Plus will include content from "sources like TMZ, America's Funniest Home Videos, FilmRise, Outside TV+, PowerNation, FailArmy, Hell's Kitchen | Kitchen Nightmares, Food52, Ameba, BatteryPOP, Baeble Music, Kid Genius, Journy, NatureVision, People are Awesome, Puddle Jumper, The Asylum, The Pet Collective, The Preview Channel, Unsolved Mysteries, Adventure Sports Network, AllTime, Complex and others," reports TechCrunch.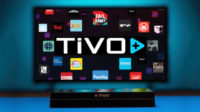 Additionally, TiVo also has content deals with "Gannett, Loop Media, Revry, Newsy, Tastemade, Latido Music and Mobcrush to expand TiVo Plus even further," explains TechCrunch. 
"Where Roku puts the focus on the content that's available for free streaming, TiVo Plus highlights the publishers. The content is organized in generic and broad groupings, like 'Movies and TV,' 'Sports,' 'Kids and Family,' 'Entertainment, Comedy Pop Culture' and others, instead of being more editorially curated or personalized to the viewer." 
While TiVo Plus is technically free for TiVo device users, TiVo devices and services cost money. The new TiVo Edge DVR is $400 for cable customers, as just one example, and requires a $14.99 per month service fee. Prices are lower for cord-cutters ($350 for the device with a $6.99 per month service fee).
Topics:
Adventure Sports Network
,
Advertising
,
AllTime
,
Amazon
,
Baeble Music
,
BatterPOP
,
DVR
,
FailArmy
,
FilmRise
,
Fire TV
,
Food52
,
Gannett
,
Jukin Media
,
Kid Genius
,
Kitchen Nightmares
,
Latido Music
,
Loop Media
,
Mobcrush
,
Movie
,
Newsy
,
Outside TV+
,
People Are Awesome
,
PowerNation
,
Revry
,
Roku
,
Roku Channel
,
Streaming
,
Tastemade
,
TiVo
,
TiVo Plus
,
TMZ
,
TV Show
,
Xumo