Sony's PlayStation Vue TV service is adding a channel devoted to e-sports, becoming the first such 24-hour linear TV network in the U.S. The channel, esportsTV, comes from competitive-gaming event producer ESL. PlayStation Vue's Elite ($55 per month) and Ultra ($75 per month) levels will have access to esportsTV. It's got plenty of competition, with free gaming on Twitch, YouTube and other platforms. Last month, ESL also signed a non-exclusive deal with Twitter to livestream about 1,500 hours of e-sports programming in 2017.
According to Variety, the channel will launch "in time for the first stop on the Intel Extreme Masters tour, IEM Sydney, which begins on May 4 in Sydney, Australia." ESL, owned by Swedish digital entertainment group MTG, also produces the IEM series "Counter-Strike: Global Offensive," "StarCraft II," and "League of Legends" competitions "at venues worldwide throughout the year." The deal "serves as further validation of the e-sports category."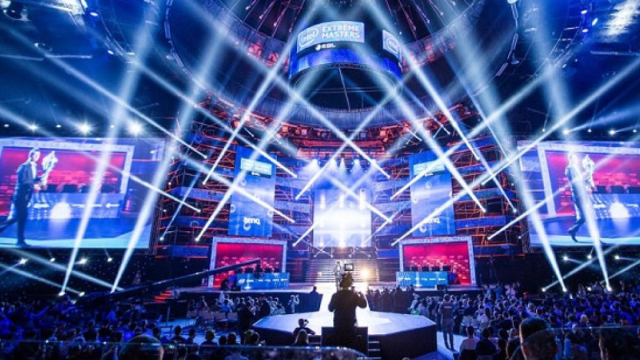 "EsportsTV is the perfect complement to the PlayStation Vue offering and represents just another step for E-Sports as a form of mainstream entertainment," said ESL executive chairman Steven Roberts. ESL recently hired former Fox TV executive David Hill as a consulting producer, "aiming to add TV-caliber production sizzle to its programming." ESL also launched the channel in Europe in May 2016 and now reaches more than 5 million households there and "around the world."
VentureBeat reports on a study by Momentum Worldwide revealing that 53 percent of gamers believe more people will watch video games than traditional sports by 2022. The study is based on 2,260 gamers, whom the researchers accessed via Twitch's Power Research Group. Twitch, with its 100+ million users a month, is the No. 1 game-streaming site.
The study also showed that 75 percent "expect gaming to always be a part of their lives," and 59 percent "believe gaming has improved their quality of life and made them more social."
"These results show there is real opportunity in the business of gaming," said Momentum Worldwide chairman/chief executive Chris Weil. "The industry is huge and should be treated with the same respect as you would a top league football game. Whether it's a live event or an online gaming forum, the experience should be the most important thing. The competitive side of gaming is going to overtake mainstream sports in a few years and brands need to be ready to become a part of that."
Topics:
Chris Weil
,
Counter-Strike: Global Offensive
,
David Hill
,
ESL
,
eSports
,
FOX TV
,
Gaming
,
Intel Extreme Masters
,
League of Legends
,
Livestream
,
Momentum Worldwide
,
MTG
,
PlayStation Vue
,
Sony
,
Sports
,
StarCraft II
,
Steven Roberts
,
Streaming
,
Streaming TV Service
,
Television
,
Twitch
,
Twitter
,
Video
,
YouTube