Sony will soon join LG and Samsung in offering curved 4K LCD television sets. The Japanese company is expected to unveil two models at 65- and 75-inches during next month's IFA show in Berlin. While Sony has yet to announce pricing and availability, the curved sets will compete with Samsung's HU9000 line, which includes a 65-inch model priced at $4,300 and 78-inch model at $8,000. Sony currently sells a 65-inch curved 1080p TV for $2,500.
The new curved sets from Sony "feature edge-lit LED backlighting, 4K X-Reality PRO video processing engine, Triluminos Display tech, Motionflow XR 800Hz motion-compensated frame interpolation (MCFI) system, active 3D capabilities (two pairs of glasses included), and its X-tended Dynamic Range to boost contrast," reports UK reviewer HDTVtest.
"Meanwhile its 4.2 channel Multi-angle Live Speakers use separate drivers for the first time, helping it to direct left, right and surround sounds around the room more accurately."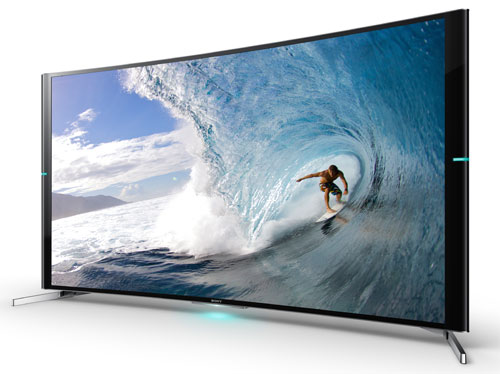 The Sony screens have less of a curvature than models from LG and Samsung.
According to Forbes: "The degree of curvature Sony has settled on was based on research by Japan's Kyushu University into finding a level of curvature that delivers the extra sense of immersion and focus curved TVs can produce without making straight horizontal lines in images — like the black bars above or below ultra-widescreen content — look as if they're bending down at the edges. This 'bending down' geometry issue is clearly apparent on the more exaggerated bend of LG and Samsung's curved screens."
Topics:
3D
,
4K
,
4K TV
,
Berlin
,
Curved
,
Curved TV
,
Germany
,
IFA 2014
,
Immersive
,
Japan
,
Kyushu University
,
LCD
,
LED Backlighting
,
LG
,
MCFI
,
Motionflow
,
Samsung
,
Screen
,
Sony
,
Speakers
,
Surround Sound
,
Television
,
Triluminos Display
,
TV
,
UHD
,
Ultra HD
,
Video Processing
,
Widescreen
,
X-Reality PRO