TikTok made its shopping play this year, partnering with Shopify, then launching the TikTok World feature for creators and brands. The result has been items from clothes to cosmetics to tech accessories and household goods seeing sales boosts through exposure on the platform. The hashtag #TikTokMadeMeBuyIt is said to have been viewed more than 7.4 billion times, and Amazon in May launched the category "Internet Famous: The Latest to Go Viral," generously populated by products that "blew up" on the video-sharing service. Now brands are scrambling to leverage the social shopping made successful by TikTok influencers.
"That fun TikTok video? It's actually an ad," writes The New York Times, pointing out that "authentic-seeming advertisements dropped in between dances, confessionals, comedy routines and makeovers" have flourished throughout the holiday season, with the sponsored #TikTokMadeMeGiftIt garnering more than 122 million views.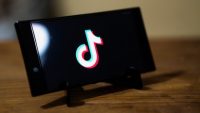 "Brands have moved from just testing out TikTok to making it a budget line item or creating dedicated campaigns for TikTok specifically," Krishna Subramanian, founder of the influencer marketing firm Captiv8, told NYT.
While TikTok has been working on attracting older users, it has excelled with Generation Z and millennials, "who are lured by its addictive algorithm and its setup as an entertainment destination versus a social network, has made the appeal undeniable for retailers," says NYT.
In reports shared with advertisers that founds its way to NYT, "TikTok said Gen Z users, defined as 18- to 24-year-olds, watched an average of more than 233 TikToks a day and spent 14 percent more time on the app than millennials or Gen Xers on a daily basis. TikTok also told one agency that 48 percent of millennial mothers were on the platform, and that women ages 25 to 34 spent an average of 60 minutes on the TikTok app a day."
In November, TikTok parent ByteDance was reported to be prepping the launch of a global shopping platform to take on Amazon and Alibaba's AliExpress, which could be a game-changer. In the meantime, the Shopify partnership in August and global TikTok World initiative launched in September have helped establish its position in the competitive shopping space, where Meta's Facebook and Instagram and Alphabet's YouTube are also jockeying for position.
From December 7-9, the live-streamed holiday shopping event On Trend debuted from TikTok.uk. Mixing shopping pitches with musical performances by TikTok creators, BBC News called it a "shopping experience with a TikTok twist."