There are reports of a migratory wave of executives and engineers moving from Big Tech firms such as Google, Amazon, Apple and others to chase what is being described as "a once-in-a-generation opportunity" with startups whose business models rely on blockchain and involve everything from cryptocurrencies to non-fungible tokens. Google is said to be so worried about employee retention they've increased stock grants in categories vulnerable to poaching following the exit of Surojit Chatterjee to join Coinbase where he saw his stake in the company grow to more than $600 million in 14 months.
The vast amounts of crypto wealth have created a fear of missing out in the tech contingent, "especially those whose friends bought Bitcoin several years ago and now are hugely wealthy," The New York Times reports, listing among those creating "a giant sucking sound" from former Lyft CFO Brian Roberts' move to OpenSea, Jack Dorsey's rebranding as Block what used to be known as Square, and news that David Marcus would be leaving Meta Platforms, where he has run the Novi crypto unit, to leverage his "entrepreneurial DNA" at year's end.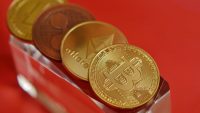 Beyond the get-rich-quick allure, the speculative mania is also fueled by those who see an opportunity to be part of "a transformational moment that comes along once every few decades and rewards those who spot the seismic shift before the rest of the world." Basically, the dream on which Silicon Valley was built.
"It feels a bit like the 1990s and the birth of the Internet all over again. It's that early, that chaotic and that much full of opportunity," Sridhar Ramaswamy, CEO of search engine startup Neeva told NYT, describing what it's like to compete with crypto companies for talent.
One new venture, Unstoppable Domains, focuses on website addresses that sit on the blockchain and have extensions including .crypto, .bitcoin and .blockchain. Unstoppable, which boasts more than 1.7 million registrations so far, says the domains are "owned, not rented" and support a wide variety of crypto wallets.
In addition to never having to worry about renewals, "the domain is stored in your wallet, just like a cryptocurrency. No one can move it around other than you," explains Unstoppable's website, underscoring the "decentralized" feature often cited in discussions of blockchain technologies, which NYT synonymizes as "crypto," also branded as Web3.
These are just some of the features that have made blockchain technology a draw for so many. Silicon Valley is awash with stories of people riding what once may have seemed to be dubious investments in crypto that subsequently resulted in "life-changing wealth," reports NYT. "Bitcoin has soared around 60 percent this year, while Ether, the cryptocurrency tied to the Ethereum blockchain, has increased more than fivefold in value."
Topics:
Amazon
,
Apple
,
Big Tech
,
Bitcoin
,
Block
,
Blockchain
,
Brian Roberts
,
Coinbase
,
Cryptocurrency
,
David Marcus
,
Ether
,
Ethereum
,
Google
,
Internet
,
Jack Dorsey
,
Lyft
,
Meta
,
Meta Platforms
,
Neeva
,
NFT
,
Novi
,
OpenSea
,
Silicon Valley
,
Square
,
Sridhar Ramaswamy
,
Startup
,
Surojit Chatterjee
,
Unstoppable Domains
,
Web3