Snell Advanced Media (SAM), which is the rebranded combination of Snell and Quantel, outlined solutions for its broadcast/cablecast customers to adopt IP networks, 4K, HDR, software virtualization, monitoring and news/sports solutions, as described by chief executive Tim Thorsteinson. 2016 is looking up, said Thorstseinson at NAB in Las Vegas, adding that, "2015 was the worst year in the market I've ever experienced in this industry." The company is also a founding member of a consortium, AIMS, to standardize the implementation of IP networks.
Although manufacturers more typically create proprietary products to "own" the marketplace, a large number of vendors banded together to create the Alliance for IP Media Solutions (AIMS) to build upon the IP standards work done by SMPTE, the European Broadcast Union (EBU), the Video Services Forum (VSF) and the Advanced Media Workflow Association (AMWA).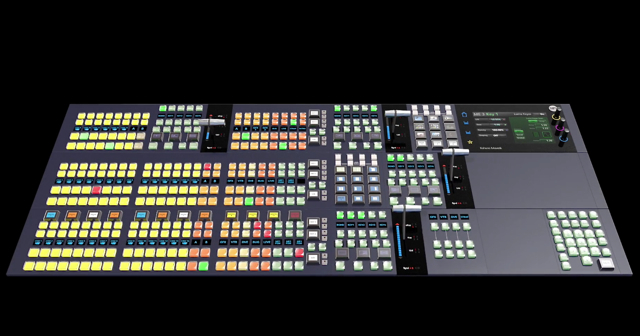 "Customers are driving us to be interoperable," said Thorsteinson. "Adoption of IP technology is new and there's fear around that. Everybody in the industry is committed to IP, however, so I think the fruits will come out of this in the next 12 months. Right now, you have to get all your IP solutions from one vendor, but the key thing with IP is the interoperability issue, which is why we're so keen on AIMS."
Among the many products SAM is rolling out at NAB 2016 is IP Edge, to implement IP across a full range of products, including routers, switchers, IQ modular processing, servers and playout systems. With regard to software/virtualization, SAM is showing products to help customers move to a data center model, "with the additional benefits of migration to IP or the cloud."
The company is also highlighting its 4K workflow products, which includes an updated Rio offering 4K/8K, high frame rate, HDR, BT.2020 and the Kahuna 4K live production switcher, as well as Go! remote editing for OTT.
Topics:
4K
,
8K
,
AIMS
,
Alliance for IP Media Solutions
,
AMWA
,
Cloud
,
EBU
,
European Broadcast Union
,
HDR
,
High Frame Rate
,
Interoperability
,
IP Edge
,
IP Network
,
Kahuna
,
Las Vegas
,
NAB 2016
,
OTT
,
Quantel
,
Rio
,
Routers
,
SAM
,
Servers
,
SMPTE
,
Snell
,
Snell Advanced Media
,
Tim Thorsteinson
,
Video Services Forum
,
Virtualization
,
VSF