Snapchat's Discover section now features a new channel called "Shop & Cop" that offers an e-commerce experience powered by Shopify. The new channel allows consumers to shop without having to leave the app. It is curated by Snapchat, but features Shopify merchants selling their products. Black Friday and Cyber Monday served as the launching pad for rolling out the feature while offering special bargains. Coco and Breezy, Gymshark, Kylie Cosmetics and Drake's merchandise shop TourLife are among the 20 brands that have already signed on.
Noel Mack, chief creative officer of UK-based fitness clothing company Gymshark, said the company is "super excited" about the rollout. "It feels like the next natural step," he said. "It always comes down to stuff becoming more frictionless. What Snap is doing here feels like the real cool next step and something we'll all be doing in years to come."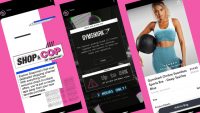 According to Mack, Snapchat is essentially merging social media, influencers and marketing for a new e-commerce experience.
"Additionally, the company's also created a similar campaign on Twitter, through the Blue Robot tool, which lets consumers 'sign up' for reminders about an event by liking a tweet," notes Adweek. "To Mack, both of these are part of putting the 'customer first.'"
Instagram recently introduced three new features to help consumers shop via its app, but it does not yet offer a native e-commerce experience.
"The updates include a new collection tab to save products tagged in stories or in posts; the ability to shop from videos; and a new shop tab on business pages where consumers can visit and see all of the shoppable products the company's used in a shopping post," explains Adweek.