By the end of 2018, Snap plans to introduce its next version Spectacles glasses with two cameras, codenamed Newport and priced at $350. According to sources, Newport will feature an "all new design" with "premium" aluminum-based frame and cameras that can overlay AR lenses over video. The latter feature is part of company founder Evan Spiegel's vision of everyday AR glasses. Newport's price is more than double the cost of the first Snap Spectacles, which debuted in 2016. Snap plans to make about 24,000 pairs.
Cheddar reports that, according to internal shipment numbers it obtained, Snap "significantly reduced" the order of its second generation glasses, to "roughly 35,000 pairs," and ordered "an additional 52,000 of a slightly modified model released in September of 2018." The company overestimated demand for its first Spectacles, "leading to a charge of roughly $40 million in unsold inventory after the company ordered roughly 800,000 units from its Chinese supplier."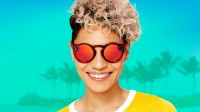 Two of its executives — Steve Horowitz and Mark Randall — left the company. According to a source, Snap has "recently created a plan to lose money on its hardware efforts until reaching break-even in 2020." Last month, the "Snap Lab" hardware group hired a new director of product design, Steen Strand, former president/chief operating office of ICON Aircraft.
For the second version of Spectacles, Snap wanted to partner with Luxottica, Warby Parker or some other eyeware maker to "license its cameras for other frames," but the talks went nowhere. The company also "held acquisition talks with Chinese drone maker Zero Zero Robotics last summer that fell through during final negotiations." Snap still struggles to "meet Wall Street's growth expectations," as its stock has plunged more than 50 percent since the beginning of 2018.
Throughout its ordeals, Spiegel has "maintained that building hardware is an important part of his company's long-term strategy," adding that in the next 10 to 20 years, computing will be "actually overlaid on the world and not confined to a small screen on your phone." "Five years from now, I think people are going to be using the camera in ways they can't even imagine today – in a way that makes [it] as essential a tool as your phone is," he predicted.