Due to iPhone sales that have been slower than expected, Apple has cut production orders for the three models it debuted in September, frustrating suppliers and the workers who assemble the phones. Of particular note is its lower-priced model, iPhone XR, which saw its 70 million planned production units plummet by up to one-third. Bedeviled by competition from China and an overall lagging smartphone market, last week Apple again cut its production numbers for the iPhone XR. Apple's shares fell 4 percent to $185.86.
The Wall Street Journal reports that the recent drop in share prices, which represents "a decline of 20 percent or more from a recent peak," puts them "close to bear-market territory." When Apple reported, "record quarterly revenue and profit" but downplayed holiday season growth, its stock plummeted 16 percent.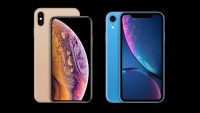 Apple chief financial officer Luca Maestri earlier this year said that, "trying to determine demand for its devices based on reports from suppliers can be misleading because the suppliers also make products for competitors." Sales of iPhones peaked in fiscal 2015, since then falling 6 percent to 217.7 million units.
In response to Apple's production cuts, "big suppliers of iPhone components including Qorvo, Lumentum Holdings and Japan Display cut their quarterly profit estimates," and Foxconn Technology, the largest assembler of iPhones, experienced thousands of workers leaving the Chinese plants after it cut overtime hours. For many of those workers, overtime is "a major source of income."
Over the years, "the iPhone's popularity generated tremendous revenue and profitability for suppliers, lifting their market valuations as components became the backbone of their business." These same suppliers are now concerned that Apple won't be able to forecast demands "since it started releasing three flagship models instead of two last year" as well as its continued sale of some older models. Also sparking uncertainty is the higher price for the three flagship iPhones, which now cost from $749 to $1,099.
"The more choice you introduce, the harder it is to pinpoint who will buy what," said Sequent Learning Networks chief executive Steven Haines, who advises on product management. Making the situation more opaque is Apple's decision to stop reporting unit sales.
At Creative Strategies, tech analyst Ben Bajarin noted that, "sales of the iPhone XR could pick up later next year, mirroring what happened when Apple launched the lower-priced Phone 5C in 2013." WSJ also adds that, "suppliers have been rattled before," as when the iPhone 6 sold better than expected, causing suppliers to scramble to meet orders. Then, the next year, "demand for the iPhone 6s fell short of forecasts, leaving suppliers to grapple with excess inventories and underused production capacity."