Connected DVR maker Simple.tv now provides users with the ability to offer friends and family members access to their recorded television shows and movies. Simple.tv's DVR for cord cutters now enables guest passes so that others can access DVR recordings over the Internet via Simple.tv's Web interface, the company's mobile apps, as well as its Roku app. Guests are restricted to streaming content already recorded; they cannot tune into live TV or schedule additional recordings.
According to Simple.tv CEO Mark Ely, up to five users can access recordings simultaneously without impacting performance (depending on bandwidth capacity).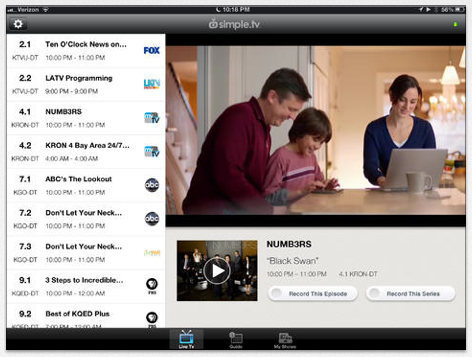 "Simple.tv owners can also set up guest passes for users within the same household, which Ely suggested as a way to give kids access to the DVR without giving them the ability to schedule or cancel any recordings," notes GigaOM. "But the main hope for Simple.tv, obviously, is that guest passes help to promote the product in a try-before-you-buy fashion."
Non-users can access the content only after creating a free account and there are limitations.
"Simple.tv is well-versed in copyright law, and even more so in the wake of the Aereo decision," Ely told CNET. "The latest sharing feature grants access to the viewer while they are logged in and does not allow for posting video content to the Internet or social media sites, nor can they download the content on their own device."
Simple.tv has also updated its Android app by adding a cable-like grid TV guide to its content-based guide. A similar update is slated for the iOS app.
"Ely said that Simple.tv is also looking to make some changes to its website, which include the integration of a new video player that won't depend on Silverlight anymore," concludes GigaOM. "And this fall, the company will begin a limited beta test of a cloud DVR feature that Simple.tv first showed off at CES in January."
Topics:
2014 CES
,
Aereo
,
Android
,
App
,
Bandwidth
,
Beta Test
,
Cloud DVR
,
Connected
,
Copyright
,
DVR
,
Guest Pass
,
Internet
,
iOS
,
Live TV
,
Mark Ely
,
Mobile App
,
Movie
,
Promotion
,
Roku
,
Series
,
Silverlight
,
Simple.tv
,
Social Media
,
Streaming Video
,
Television
,
TV
,
TV Guide
,
TV Show
,
Video Player
,
Windows 8