Social commerce platform Shopify is coming to Instagram and Facebook Shops, enabling users to complete purchases via Shop Pay, which has 60 million global users. Shop Pay stores credit card and shipping information to speed online checkout, Until now, it has only been available on Shopify clients' e-commerce stores. Shop Pay also lets users track packages or pay in installments. Facebook currently also offers PayPal, which has 377 million active accounts, including 16 million added in the most recent quarter.
The Wall Street Journal reports that eMarketer stated "social commerce spending is expected to rise 34.8 percent in the U.S. this year to $36.09 billion, counting purchases made on a social platform or by clicking directly on an advertisement or other content in social media."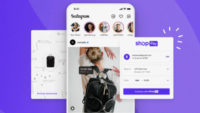 The study also found that, "only 9 percent of consumers buying through social platforms did so on a regular basis … and only 18.7 percent of consumers who purchased items via social commerce used the available checkout features, while 57.8 percent clicked away and bought directly on a retailer's website."
In addition to speeding up the purchase process, said Shop general manager Carl Rivera, Shopify "promises to offset the carbon emissions associated with each delivery," by protecting "an equivalent number of trees" to offset emissions.
Industry experts say that "giving social-media users more ways to easily pay without having to click might encourage impulse purchases and more frequent buying," but Publicis Groupe chief commerce strategy officer Jason Goldberg pointed out that, "Shop Pay isn't well known enough or different enough to quickly boost sales … Shopify Pay has some momentum and it's growing and it's smart to support, but it's unlikely to dramatically increase the pool of shoppers on Facebook that are able to pay with a digital wallet."
In its blog, Shopify reported that Shop Pay "helped buyers complete more than 137 million orders in 2020, and by the end of the year, had facilitated nearly $20 billion in cumulative GMV since its launch in 2017 … [while it] also offset 75,000 tons of carbon emissions, which is the equivalent of 85 million trees protected in the Peruvian rainforest."
It added that, "checkout on Shop Pay within the Shopify platform is 70 percent faster than a typical checkout, with a 1.72x higher conversion rate," and that over 430 million orders have been tracked 450+ million miles. With regards to carbon emissions offset, Shopify reported that, "53 percent of consumers say they prefer green or sustainable products." Brands that already use Shopify include "Allbirds, Kith, Beyond Yoga, Jonathan Adler, Loeffler Randall, and Blueland."