Microsoft is urging the United States to adopt Australia's proposal that Big Tech companies pay newspapers for content, in direct opposition to the positions of Google and Facebook. In Australia, that proposal is before a parliamentary committee. Google, which is responsible for 95 percent of searches in that country, has threatened to pull its search engine should the proposal become law. Microsoft is betting that, especially if the Australians pass the law, other countries will join in demanding payment for publishers.
The Wall Street Journal reports Microsoft president Brad Smith wrote that, "the United States should not object to a creative Australian proposal that strengthens democracy by requiring tech companies to support a free press … It should copy it instead."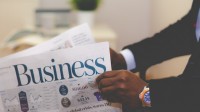 The Australian proposal "would effectively require publishers and tech companies to negotiate and submit to binding arbitration if they can't reach a deal … [and] would also require tech companies to notify publishers of algorithm changes that could affect search rankings." Although Australia's law doesn't target Microsoft, Smith said the company is "prepared to sign up to the new law's obligations and share revenue as proposed with news organizations."
In Australia, senior officials including prime minister Scott Morrison said they have recently spoken with Facebook chief executive Mark Zuckerberg, Alphabet chief executive Sundar Pichai and Microsoft chief executive Satya Nadella. Should the proposal become law, Facebook plans to "bar Australian users on its social-media platforms from sharing links to news articles."
Google wants the Australian proposal to be limited to News Showcase, a new product that does pay publishers, rather than overall search results. The company, which committed $1 billion to the product over the next three years, launched News Showcase in Australia where seven publishers have signed up, and expanded it to the UK and Argentina. In Australia the local subsidiary of News Corp and other publishers said that Google and Facebook's market dominance offers "no incentive to negotiate."
Bloomberg reports, "Australia's entire economic output is less than Alphabet's $1.4 trillion market value, so it may be surprising the distant and tiny market is suddenly so important." But, if the law goes into effect, it will become "a template for jurisdictions including Canada and the European Union that are following the quarrel and keen to shorten Google's lead."
Search engine rivals Microsoft Bing and DuckDuckGo would also "suddenly have a playground for development and a foothold to advance on the global stage." Australians such as 24-year-old Patrick Smith noted that he can make up to 400 Google searches a day. "The prospect of Google search disappearing is frightening at best," he said.
One suggestion came from the Australian Greens party, which "asked the government to consider setting up a publicly owned search engine rather than let Microsoft muscle in."