Each month, almost 100 million people use song-recognition app Shazam. Many shows and ads integrate Shazam to supply special offers or exclusive content. The app now plans to launch Resonate, a sales platform to help television networks monetize the viewers that use second screens while watching television. The platform aims to help network partners exert more control over the messages and content users receive when using Shazam while watching TV.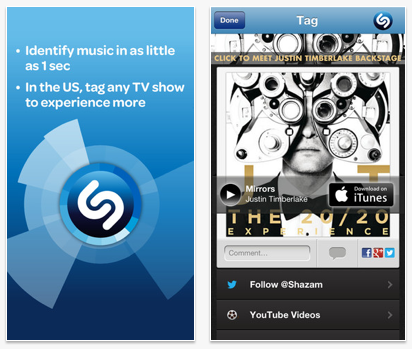 During the Grammy Awards, viewers used Shazam more than 1.1 million times. During the Super Bowl, users "Shazamed" 700,000 times.
"The new offering comes as Shazam has been increasing its focus on its platform business, which includes partnerships with TV companies, a business that Chief Executive Rich Riley said is 'meaningful' for Shazam," reports The Wall Street Journal.
The largest cinema advertising company, National CineMedia, plans to use Shazam in its ads as well.
 "A lot of our partners are realizing that to drive high engagement you have to partner with a platform that already has a strong presence on mobile," said Riley.
According to Nielsen, ad recall is six percent higher for those that integrate Shazam. The same ads had higher likability, along with higher brand and message recognition.
"We see a lot of demand coming out of [the] marketplace for more innovative mobile and data-driven opportunities," said Kevin McGurn, chief revenue officer at Shazam. "The analytics the mobile phone affords us are very deep and interesting insights that we can pass through to networks who  can pass through to advertisers."
Topics:
Analytics
,
Android
,
App
,
Brand Recognition
,
Data
,
Engagement
,
Exclusive Content
,
Grammy Award
,
Innovation
,
iOS
,
Kevin McGurn
,
Mobile
,
Music
,
National CineMedia
,
Network Partners
,
Nielsen
,
Resonate
,
Rich Riley
,
Sales Platform
,
Second Screen
,
Shazam
,
Shows
,
Song-Recognition
,
Special Offers
,
Super Bowl
,
Television
,
TV